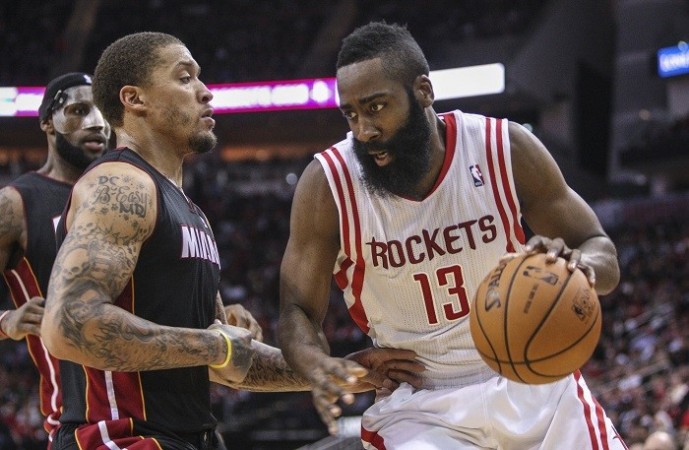 The Houston Rockets will look to take their hot streak on the road when they visit the struggling Oklahoma City Thunder in the NBA on Tuesday.
The Rockets have won their last five games, including an impressive 118-113 overtime victory over the Portland Trail Blazers on Sunday.
"[This] was a tough test for us," Rockets center Dwight Howard said after the close victory over Portland, which saw James Harden let fly 41 points with Jeremy Lin chipping in with 26 of his own. "I think early in the season we probably would have lost this game but we found a way to win.
"Not everybody had a good game particularly. James picked it up scoring, hitting some tough shots and Jeremy had an amazing game. We cannot get cocky. We cannot lose our focus. We've got to stay humble."
If the Rockets continue doing exactly that, they just might catch up with the Thunder, second in the Western Conference behind the San Antonio Spurs -- Houston is third at the moment. OKC have struggled for consistency since the All-Star break, losing five of their last eight games, including two straight, and coach Scott Brooks emphasised on getting better on the defensive end.
"We have to continue to put it on the floor and we will," Brooks told the team's official website. "I have a lot of confidence in the group. I have a lot of confidence in our core guys. We have a great nucleus that has been around and understands how we play and we'll get back to doing that.
"We worked on a lot of defensive things that we have to get better at. One of the things I love about our group is that we've always tried to figure out ways to do it together, whether we won a game or are not playing well and losing a game. We still want to figure out how to get better together."
The Thunder have been struggling despite Kevin Durant having yet another incredible season, and while Brooks believes his star forward can score a lot more than the 31.8 points he has averaged, the coach thinks Durant is working for the betterment of the team.
"If he wanted to score a bunch of points or more than he's scoring now, he really could do that," Brooks was quoted as saying by ESPN. "His assist level has gone up, he impacts the game. Defensively, he impacts the game. He can guard 1 through 5. So a lot of things that he does [are] all about the team."
Durant had a triple double in his last game against the Lakers on Sunday, but the Thunder still lost 114-110. OKC, no doubt, will want to end their two-game losing streak as soon as possible, but they will be up against a streaking Rockets team, with their best player - Harden - desperate to get one over his former side.
Where to Watch Live
The game is scheduled for an 8 pm ET (5.30 am IST) start with live coverage on NBA TV in the US and Sony Six in India. The game can also be watched via live streaming online HERE.