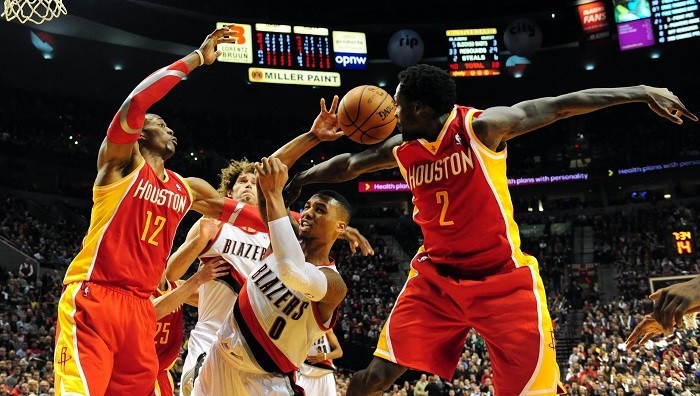 The Houston Rockets will be keen to get back to winning ways when they visit the Golden State warriors in the NBA on Friday night.
The Rockets went down 111-104 to the Western-Conference best Portland Trail Blazers at the Moda Center on Thursday in a contest which saw Dwight Howard, despite finishing with great numbers, outshone by LaMarcus Aldridge in a heavyweight battle of the big men.
Howard had a pretty good game with 32 points and 17 rebounds against the Trail Blazers, but the Rockets could do little to stop the power and verve of Aldridge, who finished with 31 points and a career-high 25 rebounds.
"Portland is obviously really good, and they're really good in this gym," said Houston assistant coach Kelvin Sampson, filling in for Kevin McHale, who was not with the team following the death of his mother. "They are playing with a lot of confidence right now."
Portland was leading by ten points going into the fourth quarter, only for Chandler Parsons and James Harden to close the game to within two. However, the Trail Blazers kept finding the right shots at the right moment to keep the Rockets at bay.
"They made some big plays down the stretch," Howard said. "It seemed like every time we would close the gap, they came down and got a great shot. This was big for them."
The Rockets, 15-8, coasted to a 105-83 victory in their last meeting against the Golden State Warriors, 13-10, on December 6, and Houston will be hoping for more of the same as they look to bounce back from the Portland defeat.
While the Rockets-Trail Blazers encounter was about the big men Howard and Aldridge, the Houston-Golden State game is likely to be a contest between two guards Stephen Curry and James Harden, who had 34 points in that lopsided win last Friday.
Curry was the difference-maker in Golden State's narrow victory against the Dallas Mavericks on Wednesday, taking over in the final quarter in a 33-point effort to help his side to a 95-93 result.
"He's a great player and an all-time great shooter," Warriors coach Mark Jackson said of Curry. "I've seen Steph Curry every single day take that shot hundreds and hundreds of times, thousands of times, so when the curtains open up you expect it to go in."
The Rockets is again expected to be without Omer Asik, while Andre Igoudala is likely to miss his 11th straight game for the Warriors with a strained left hamstring. Jermaine O'Neal will undergo arthroscopic surgery on his wrist, which could keep him out for the rest of the season.
Where to Watch Live
The game is scheduled for a 9am IST start with live coverage on Sony Six. You can also catch all the action via live streaming by clicking HERE.