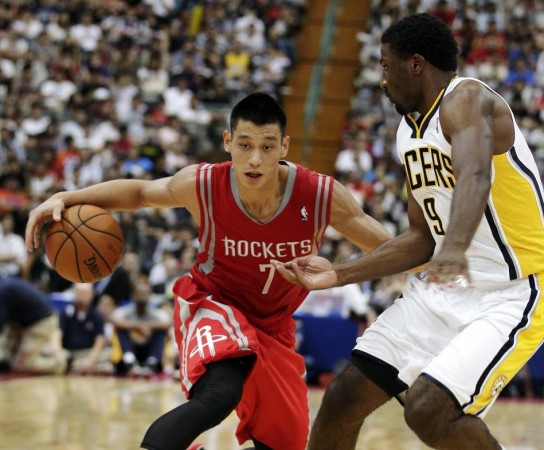 Houston Rockets' point guard Jeremy Lin had a memorable homecoming as he guided them to a 107-98 win over Indiana Pacers in Taiwan.
Lin's parents are from Taiwan and had immigrated to the United States in 1970s. Lin scored 17 points and had three from four from the 3-point line as the capacity crowd cheered him on. James Harden continued his scoring form as he topped Rockets' scoring with 21 points. For the Pacers, Paul George led the scoring with 19 points.
Rockets coach Kevin McHale was happy with the outing and said that Lin did a great job, in spite of the huge pressure on him to perform in front of his home crowd. "He puts so much pressure on himself," McHale said. "There's an entire half of the world that seems to be pulling for him."
He also had words of praise for newcomer Omri Casspi. "Omri is doing a really good job for us," McHale said. "He's playing at a really high level."
In another preseason game, Detroit Pistons defeated Brooklyn Nets 99-88. Andre Drummond was the star as he scored 15 point to add to his six rebounds, three steals and a block. Pistons fans will be excited about the season, after a promising show by Drummond.
"The guys on the court make me feel so comfortable," said Drummond. "Playing alongside Greg, Josh, Will and Kyle, those are guys we already have a good bond on the court already. We all know where we need to be on the court and we know each other's spots and when we like to get the ball. When I do have those spurts of minutes where I just dominate the game, it's just because I'm in the zone at that point and time."
Will Bynum and rookie Tony Mitchell also enjoyed a great game for the Pistons. They will now move on to Chicago for their next preseason game.