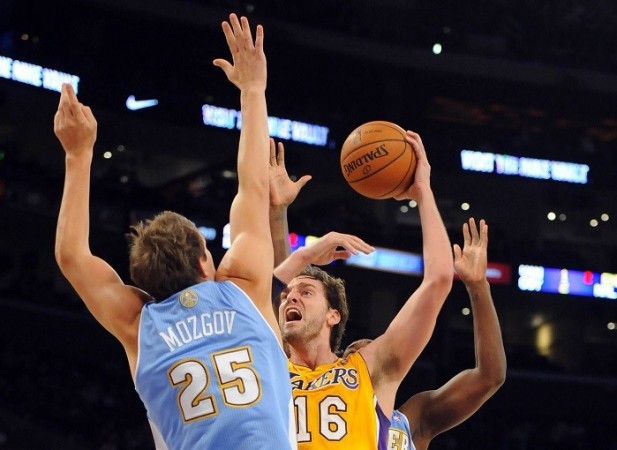 All eyes will be on the replacements of Kobe Bryant when the Los Angeles Lakers take on Golden State Warriors in an NBA preseason game in Beijing.
Bryant has made the trip to China, where the Lakers play two exhibition games with the Warriors, but will not be involved on the court as he looks to recover from a torn Achilles tendon and a knee problem, which is expected to keep him out of the entire preseason scheduled at least.
"We have guys competing for jobs," Lakers coach Mike D'Antoni said at a practice session on Monday. "They're trying to earn jobs. So it's a hard time for these players but they're doing well."
Bryant is slowly but surely getting back into the kind of shape necessary to compete on a regular basis in the NBA, as the rehabilitation from injury kicks into overdrive.
"I feel pretty good," Bryant said on Monday. "I'm stepping it up. I'm looking forward to practice and seeing what I can do from a conditioning standpoint."
Lakers power forward Pau Gasol believes as long as players step up in the absence of Bryant, and the Los Angeles side remain injury-free - a big if -- then winning games shouldn't be a problem, even if it is just the preseason.
"It's just a matter of having everybody else healthy so we have as many guys as possible to be able to make up for Kobe's absence," Gasol was quoted as saying by the Associated Press.
Bryant, who is one of the most popular NBA players in China, is not the only one that the Lakers have to worry about from an injury standpoint, with Steve Nash, Jordan Farmar and rookie Ryan Kelly all struggling in one form or the other.
Nash, who has taken a few knocks in preseason already, said he expects to play on Tuesday. "I plan to play tomorrow (Tuesday), so we'll see how it goes," Nash said. "I'm not worried about it. I think this is going to be a month of ups and downs, trying to get in condition to play. That's what this time of year is for."
Where to watch
The game is scheduled for a 5 p.m. (IST) start with no live coverage on any channel.