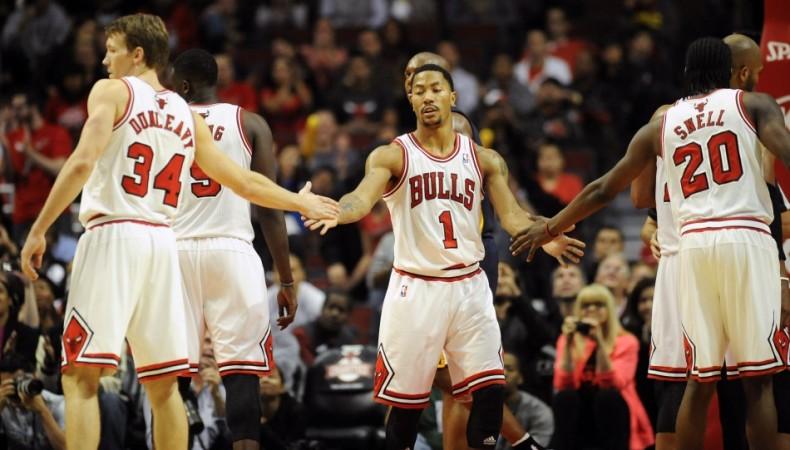 Derrick Rose was again the star as Chicago Bulls beat Milwaukee Bucks 105-84.
Rose, who has been on fire during preseason, scored 24 points to add to his 32 points on Friday night. He has a point to prove after missing the entire season last year due to injury. Meanwhile, Carlos Boozer scored 16 points, while Luol Deng had 15 points. For the Bucks, Gary Neal scored 14 points and Brandon Knight had 13.
Bucks coach Larry Drew said he was disappointed with his team's efforts on the day. "This Bulls team is a veteran team and obviously they have some real talented guys," Drew said. "I just hope my guys can learn from the pace and speed at which the game is played.Physically, I thought they manhandled us on the glass. We're not going to use being short-handed as an excuse."
"You've got to play tougher and play with much more of a physicality. When you play against a team that plays that style and you don't, you stick out like a sore thumb. And we certainly did tonight", he added.
Rose said Bulls can still improve as a team even though they are having a dream preseason. Bulls have won all the six games they played. "I think we could become a better defensive team than we did in the past," Rose said after Monday's match. "I think all the guys that are working right now, they're putting their all into the defensive end. Everybody. So for us we just got to stay together getting our chemistry (going) where we're jelling out there. Really just focus on the defensive end, because offensively I think we're going to be all right."
With Rose back in the team, Chicago Bulls are one of the favourites to upset defending champions Miami to win the title this year. Bulls will play Oklahoma City Thunder on Wednesday.