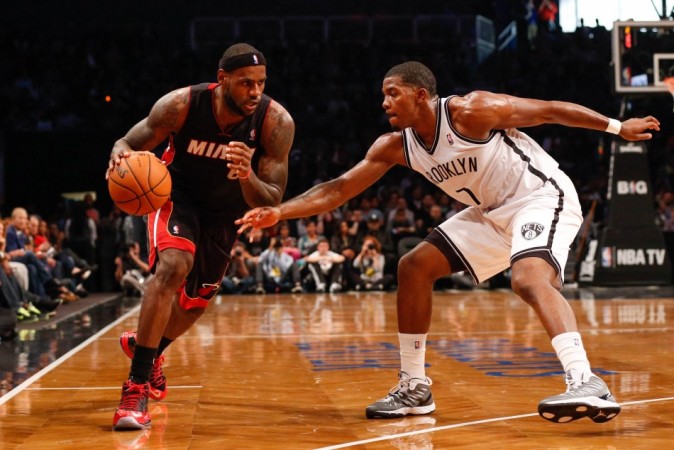 The rivalry between Brooklyn Nets and Miami Heat is heating up, even though the season is yet to begin.
The Nets are considered one of the biggest challengers who can stop the Heat from completing the three-peat. They met for the first time after Nets brought in Paul Pierce and Kevin Garnett from Boston Celtics. Brooklyn came up on the top as they comfortably beat the champions 86-62.
Before the game, the Nets retired coach Jason Kidd's no.5 jersey. Kidd led the Nets to consecutive NBA finals as a player. "I used to enjoy playing in the Swamp (in East Rutherford). This is a little bit better arena, but we've had some big crowds in Jersey," Kidd joked. "Opening night - 4,000, 5,000 fans. We were rocking. No one thought we could win and we did," Kidd said, turning serious. "And we continued to win and we just came short of that big trophy but we got (to the NBA Finals) twice."
The game looked like a typical exhibition match, where both teams took it easy and rested their stars for the majority of the game. However, the Nets' bench already looks stronger than the Heat's and they outplayed the champions when their stars took a break. Brook Lopez scored 14 points for the Nets while LeBron James and Chris Bosh scored 16 each for Miami.
The rivalry between the two teams started even before the game, with James commenting on the Celtic duo's move to the Nets. "The first thing that I thought was like, 'Wow, Ray got killed for leaving Boston and now these guys are leaving Boston,' '' James said Wednesday. "I think it's OK. I don't mind it, but there was a couple guys that basically [criticised] Ray for leaving, and everybody else is leaving.''
After the game, Kevin Garnett replied to James' comments. "Tell LeBron to worry about Miami," Garnett said after the win over the Heat. "He has nothing to do with Celtics business.'' With Pierce and Garnett added to a team which already boasts of Lopez and Deron Williams, the Nets believe they have the team to topple Miami this season and become champions.