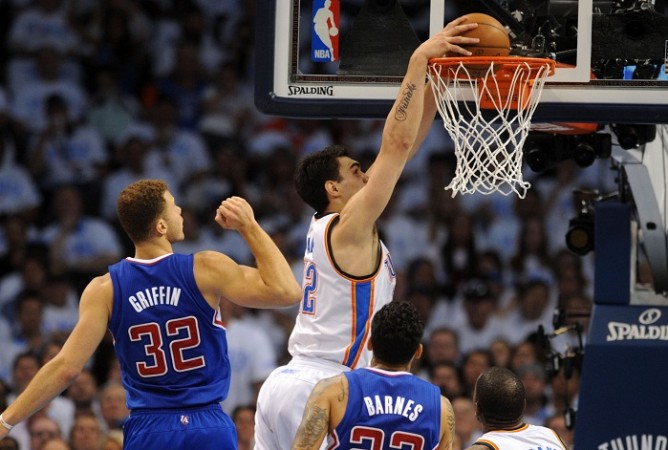 The Washington Wizards have defeated the Indiana Pacers in the fifth game of the Eastern Conference second round playoff series 102-79 to stave off elimination at the Bankers Life Fieldhouse on Tuesday night.
Marcin Gortat top-scored for the Wizards and racked-up 31 points and 16 rebounds, while John Wall scored 27 points to cut the Pacers' lead to 3-2.
"We don't have anything to lose now," Gortat said. "We play desperate. At the end of the day, we might lose. We have to play every minute of every game like it's the last one of the season."
The Wizards started the game strongly and built a seven-point lead heading into the second half. Having blown a 19-point lead in the last game, Washington didn't run down again and took a 24 points cushion in the third quarter, which was stretched to 30 points in the fourth.
"They're not ready to go home," Washington's coach Randy Wittman said. "It said 3-1, which doesn't sound very good, but in our minds, we're very close to it being something else. They don't want this (season) to end."
David West was the top-scorer for Indiana with 17 points and six rebounds, while Paul George only managed to add 15 points, two assists and one rebound.
"We didn't show up to play. I don't know if we just thought we were going to come in here and these guys were going to roll over or what. They just played at a different level than we did all night," West said. It's a tough situation. We have to be able to handle these moments. We had no zip. We have to play. If we want this series, we have to take it."
In the second game of the day, the Oklahoma City Thunder stunned the Los Angeles Clippers 105-104 to take a 3-2 lead in the Western Conference semifinals at the Chesapeake Energy Arena.
The Thunder rallied from a seven-point deficit in the final 50 seconds of the game to down the Clippers. Russell Westbrook, who finished with 38 points and five rebounds, scored three free throws in the final 6.4 seconds.
Los Angles took the lead in the first quarter 34-25, but Oklahoma made a comeback in the second 27-24 to cut down the lead. Both teams were evenly matched in the third quarter and the Clippers regained control in the fourth to edge the Thunder 104-97 with 49 seconds remaining.
Blake Griffin scored 24 points and 17 rebounds for the Clippers, Jamal Crawford added 19 points and Chris Paul ended with 17 points and 14 assists. MVP Kevin Durant scored 10 points in the final 3:23 minutes for OKC and finished the game with 27 points.
Catch Washington Wizards v Indiana Pacers highlights HERE.
Catch Los Angeles Clippers v Oklahoma City Thunder highlights HERE.