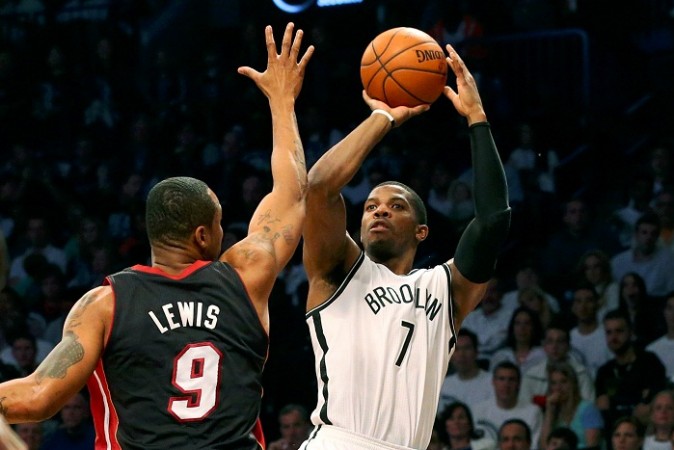 Brooklyn Nets defeated Miami Heat 104-90 in the third game of the postseason second round series at the Barclays Center on Saturday. The defeat ended Miami's eight-game winning streak in the playoffs.
Miami played a close first quarter 30-29 but Brooklyn outscored them in the second 22-19. LeBron James, who scored 16 points in the first quarter, missed a three-pointer and only converted one shot in the second, eventually finishing with 28 points and eight rebounds.
The Nets outplayed the Heat in the second half with a 53-41 run and converted 20 out of 33 shots. "To sum it up, they outplayed us. They outplayed us, particularly in that whole second half," Heat coach Erik Spoelstra said.
Brooklyn converted four of the six three-pointers in the third quarter, while Miami only scored once from the three-point arc. "The third quarter was the deciding factor for us," James pointed out. "We scored 14 points and allowed them to get everything they wanted, and that changed the game."
Six Brooklyn players scored in double digits. Joe Johnson topscored with 19 points, Andray Blatche ended with 15 points and 10 rebounds, Paul Pierce added 14 points and reserve Mirza Teletovic had 12 points. "Tonight was the type of urgency we're going to need for the rest of the series," Pierce said.
"I've been part of a lot of series and understand that the series is never won in two games or in three games," James stressed. "And you move onto the next one and you learn from the previous one how you can get better."
Meanwhile, in the second game of the day, San Antonio Spurs registered a thumping 118-103 victory over Portland Trail Blazers in the third game of the second round playoff series.
The Spurs are now just one win away from moving to the Eastern Conference finals. No team has made a comeback from a 3-0 deficit in the seven-game series.
San Antonio started the game strongly and built a 28-18 lead by the end of the first quarter. The lead was stretched to 23 points in the second.
Portland made a comeback in the third 29-23 and played a close fourth quarter 35-34 but the Spurs had the game under control and their first half lead was big enough to seal the game.
LaMarcus Aldridge added 21 points and 12 rebounds for the Trail Blazers, while Tony Parker topscored with 29 points for the Spurs.
Catch the highlights of Miami Heat v Brooklyn Nets HERE.
Catch the highlights of San Antonio Spurs v Portland Trail Blazers HERE.