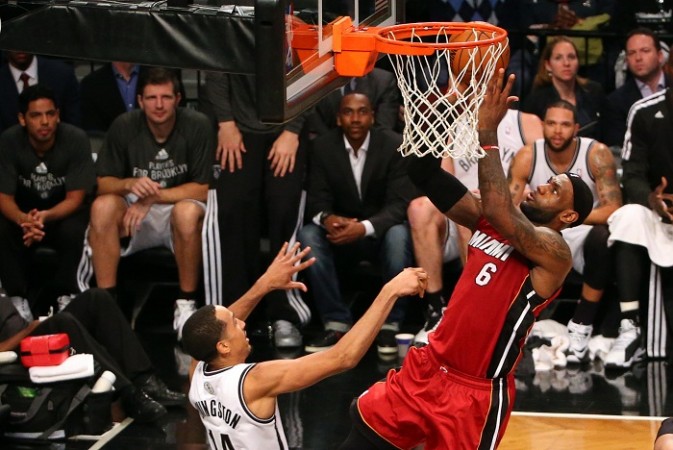 The Miami Heat defeated the Brooklyn Nets 102-96 in the fourth game to take a 3-1 lead in the Western Conference semifinals at the Barclays Center on Monday.
LeBron James led Miami with 49 points and six rebounds and equalled his career high playoff performance, which he had done against Orlando in 2009. James failed to convert a free throw with 1.1 seconds left on the clock and missed his first 50-point playoff performance.
"That's the first time I've been disappointed in myself in a win," James said
Miami put the Game 3 loss behind and built a 27-22 lead in the first quarter, which was further stretched to 56-49 by the end of second. Brooklyn rallied back in the third quarter 27-23 to cut the lead, but it proved too little at the end, as Miami easily defeated them.
James was again the standout performer and scored majority of points for the Heat and coach Erik Spoelstra looked pleased with his performance. "He was what was needed on the road and that's what makes him the best player in the game," Spoelstra said.
Trailing 3-1 in the series, it is going to be a mountain to climb for the Nets from here. "Obviously the series is not over, but we really have to have some urgency going to Miami and we've got to come out of there with one," Nets' Joe Johnson said.
Johnson added 18 points for the Nets, Paul Pierce finished with 16 points and seven rebounds, while Shaun Livingstone and Deron Williams each scored 13 points.
In the second game of the day, the Portland Trail Blazers staved off the elimination by upsetting the San Antonio Spurs 103-92 on Monday. The Spurs are still leading the Western Conference second round postseason series 3-1.
The Trail Blazers held Tony Parker, who was averaging 29 points in last three playoff games, to just 14 points, while Kawhi Leonard finished with 11 points, seven rebounds and three assists for the Spurs.
Portland started the game strongly and built a 29-24 lead by the end of the first quarter. San Antonio rallied back in the second 24-21 to cut the lead. The Trail Blazers outplayed the Spurs in the third to build a 17 points lead that was stretched to 20 points in the final quarter.
Damian Lillard sparked the Trail Blazers with 25 points, Will Barton scored 17 points and Nicolas Batum finished with 14 points, 14 rebounds and eight assists.
Catch the highlights of Miami Heat v Brooklyn Nets HERE.
Catch the highlights of San Antonio Spurs v Portland Trail Blazers HERE.