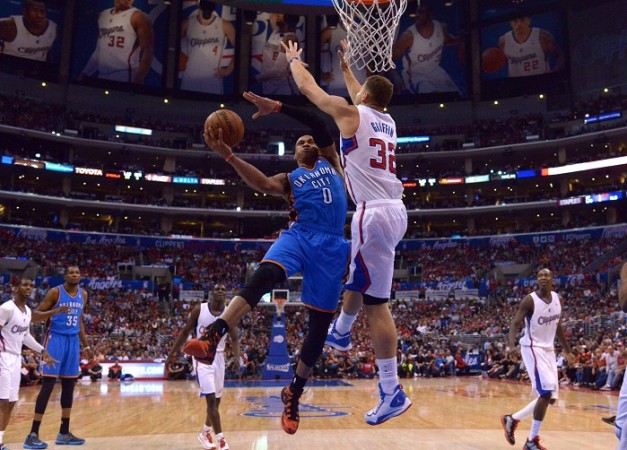 Los Angeles Clippers rallied back in the fourth game of the second round series to edge Oklahoma City Thunder 101-99 and level the Western Conference playoff series 2-2.
Oklahoma outplayed Los Angeles in the first quarter 32-15 but the Clippers cut down the lead with a 31-25 play in the second quarter. Darren Collison, who finished with 18 points, scored 12 points in the final quarter to lift the Clippers over the Thunder.
"Darren Collison was amazing today," Clippers' Chris Paul said. "If you see us during the game, probably saw me going nuts on him a couple times there at the end."
This is the 14th comeback win for the Clippers this season, and by far the largest, as they were trailing by 12 points in the second quarter.
"Even though we didn't play well throughout the game, we were able to get a win," Collison said. "That feels more impressive than anything we did."
Clippers coach Doc Rivers was pleased that his team didn't let the game slip away after trailing in the first half.
"We were almost on the mat and we got off of it. We didn't get pinned," Rivers said. "They're seething right now. They had an opportunity to go up 3-1 and now it's an even series."
In the second game of the day, Indiana Pacers defeated Washington Wizards 95-92 to built a 3-1 lead in the Eastern Conference semifinals.
The Pacers started the game strongly but the Wizards rallied back in the second quarter and took a 17-point lead, heading into the third quarter.
Paul George, who finished the game with 39 points and 12 rebounds, was the star for Indiana as he scored 28 points in the second half and helped the Pacers register their third win in the second round series.
"I kept wanting to try to get him a rest, and he kept saying, 'No,'" Pacers coach Frank Vogel said. And usually I'll override that, but he kept making big shots, too."
Bradley Beal was the topscorer with 20 points, five rebounds and as many assists, and Trevor Ariza added 16 points for the Wizards. Roy Hibbert continued his good form and added 17 points and nine rebounds.
Catch the highlights of Los Angeles Clippers v Oklahoma City HERE.
Catch the highlights of Indiana Pacers v Washington Wizards HERE.