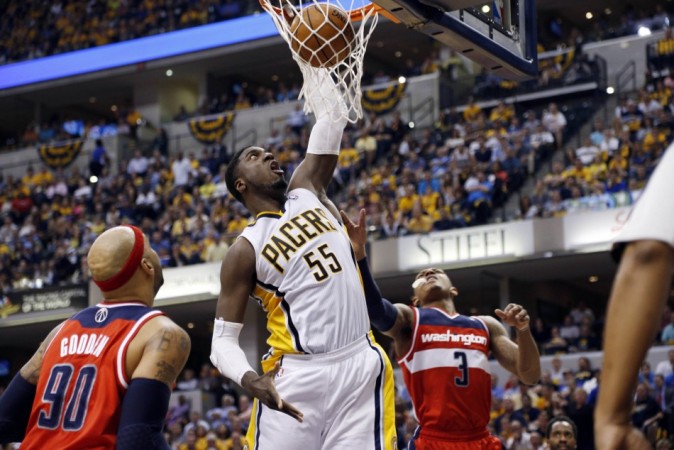 Roy Hibbert helped the Indiana Pacers level their Eastern Conference second round playoff series against the Washington Wizards with an 86-82 victory Wednesday.
Hibbert, who was criticised for scoring only 37 points and 24 rebounds in the last eight postseason games, came up with a big peformance, scoring 28 points to propel the Pacers.
"I just want to string a few games together," Hibbert said. "Consistency hasn't been my biggest friend this year. I'm going to try to continue to play aggressive and I'm going to try to control the things I can control. I can't control play calls, but I can control how hard I play, how fast I run down the court and how well I play defense."
There was a very little to separate between the two teams at halftime, as after finishing the first quarter on 23-23, the Wizards managed to take two-point lead by the end of second quarter.
The Wizards had their chances in the third, when they were leading by six points, before the Pacers rallied back to lead the game by four points heading into the final quarter.
Washington again took a 77-74 lead with 5:01 minutes remaining, but Paul George and Hibbert helped Indiana pull away.
George Hill had 14 points, George added 11 points, four assists and six rebounds, while Lance Stephenson ended with 12 points for the Pacers. Marcin Gortat scored 21 points and 11 rebounds, Bradley Beal added 17 and Nene finished with 14 points for the Wizards.
"He came out with a lot of intensity and established position," Beal said. "We didn't play our best game. We didn't shoot the ball and we didn't defend like we know we're capable."
In the second game of the day, the Oklahoma City Thunder defeated the Los Angeles Clippers 112-101 to even their Western Conference second-round playoff series 1-1.
Oklahoma City made a quick start to the game and took a 37-28 lead by the end of first quarter. MVP Kevin Durant, who finished the game with 32 points and 12 rebounds, scored 17 points in the first quarter.
The Clippers tried to cut the lead in the second, but the Thunder finished the first half with a 61-56 lead, which was further pushed to 94-77 in the third. Los Angeles rallied back in the final quarter but it was too big a lead to make up.
Russell Westbrook ended with a triple double of 31 points, 10 rebounds and 10 assists, while Serge Ibaka and Thabo Sefolosha each scored 14 points for the Thunder. J.J Redick added 18 points, Chris Paul scored 17 points and 11 assists and Blake Griffin finished with 15 points for the Clippers.
Catch Washington Wizards v Indiana Pacers game highlights HERE.
Catch Los Angeles Clippers v Oklahoma City Thunder game highlights HERE.