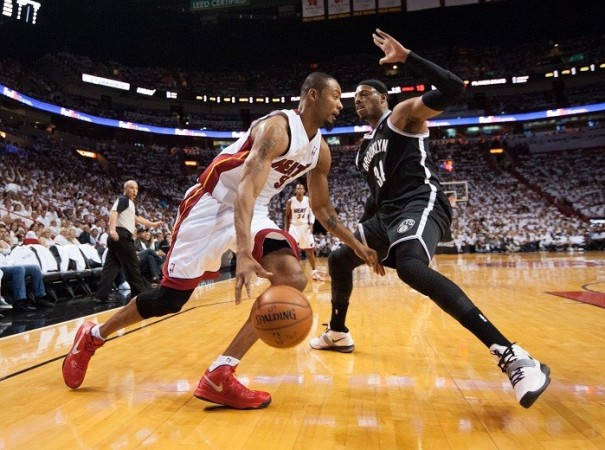 The Miami Heat got off to a winning start in the NBA Playoffs second round by defeating the Brooklyn Nets 107-87 at the American Airlines Arena Tuesday.
LeBron James was again the star with 22 points and five rebounds, Chris Bosh added 15 points and 11 rebounds and Dwyane Wade finished with 14 points.
Both teams were evenly matched in the first two quarters, as the Heat were leading the game by just three points at the halftime. In the third quarter, Bosh and Allen pushed Miami's lead to 14 points with a brilliant 24-9 run. The Heat kept the momentum going in the final run of play to further stretch the lead.
"It was great that we were able to come out the way we did after being off eight days," James said. "We got a lot of work in. We had eight days off of not playing a basketball game but Spo got us in the gym. (We) got each other in the gym. We made each other accountable throughout the layoff and it proved tonight."
Deron Williams and Joe Johnson managed only 17 points each, Paul Pierce scored eight, while Kevin Garnett had a terrible 16 minutes on court as he ended without a point for the Nets.
"This is the defending champs," Nets coach Jason Kidd said. "It's always going to be at a high level and we've got to find a way to match it."
In the second game of the day, Tony Parker sparked the San Antonio Spurs in their first game of the series to beat the Portland Trail Blazers 116-92.
Parker ended with 33 points and nine assists, Kawhi Leonard scored 16 points and Tim Duncan finished the game with 12 points and 11 rebounds.
San Antonio played with fluidity and flair, and had everything under control while never trailing in the game.
The Trail Blazers had no answer to the Spurs' quick start as they were trailing by 26 points by the end of the second quarter. Portland played a close third and fourth quarters, but the lead was too big to catch up.
LaMarcus Aldridge scored 32 points and 14 rebounds and Damian Lillard ended with 17 points for the Trail Blazers, but they only managed to score 17 points in the first half, combined.
Catch Brooklyn Nets v Miami Heat match highlights HERE.
Catch Portland Trail Blazers v San Antonio match highlights HERE.