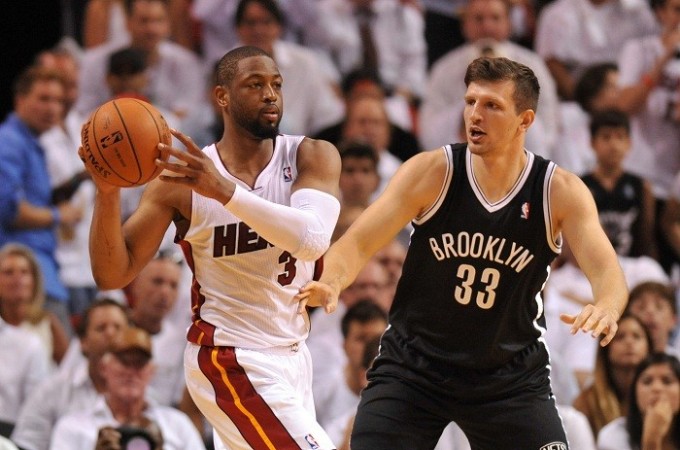 The Miami Heat kept their winning momentum going in the playoffs to take a commanding 2-0 lead in the second round of the playoffs, defeating the Brooklyn Nets 94-82 Thursday.
The Miami Heat did not have any major scorers, with all-round efforts from their players, including LeBron James, who had 22 points, and Chris Bosh, with 18, taking them to an eventually comfortable win. "That's what our team is all about," James said. "We don't really care who scores."
The Heat created a franchise record of eight-straight postseason wins with this the result over the Nets.
Brooklyn started the game strongly and took a 21-15 lead by the end of the first quarter, but Miami rallied back in the next two quarters and led the game 79-77 heading into the fourth.
Dwyane Wade, who only managed to score six points in first 37 minutes of the game, set the tone for the Heat in the final quarter scoring eight points, in a three-minute period. Miami outscored Brooklyn in the final run of play 25-15 to register their second straight victory.
"That one hurt," Nets coach Jason Kidd said. "We were right there. We gave ourselves, on the road, an opportunity against the world champs. We let the game slip away."
In second game of the day, the San Antonio Spurs registered another thumping 114-97 victory over the Portland Trail Blazers to take a 2-0 lead in the Western Conference semifinals.
Portland was rattled early with a 23-8 run by San Antonio, with Boris Diaw starring in the run, as the Spurs built a 54-36 lead with seven minutes remaining on the clock in the first half. The lead was further pushed to 70-51 heading into the second-half.
The Spurs remained scoreless for four minutes in the third quarter, as Wesley Matthews scored 10 straight points for the Trail Blazers. Even after trailing in the third 20-17 and playing a close fourth quarter 27-26, San Antonio outplayed Portland in the second game.
Kawhi Leonard was the top-scorer for the Spurs with 20 points, Tony Parker finished with 16 points and 10 assists, Manu Ginobili had 16 points and Marco Belinelli ended with 13 points.
Nicolas Batum finished with 21 points, Damian Lillard scored 19 and LaMarcus Aldridge had 16 points and 10 rebounds for the Trail Blazers.
Catch Miami Heat v Brooklyn Nets Game 2 highlights HERE.
Catch San Antonio v Portland Trail Blazers Game 2 highlights HERE.