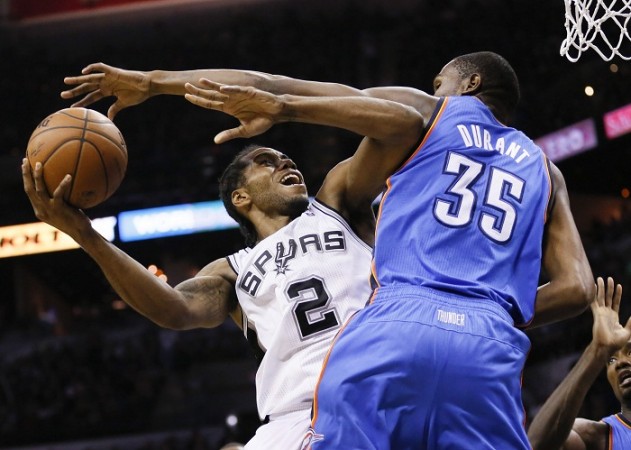 The San Antonio Spurs thumped the Oklahoma City Thunder 117-89 in the fifth game of the Western Conference series to build a 3-2 lead at the AT&T Center on Thursday night. The Spurs are just one win away from making it to the NBA Finals with two games to play in the series.
Oklahoma can force the decider wuth victory in Game 6 at the Chesapeake Energy Arena on Saturday, where they have a nine-game winning streak against San Antonio.
After playing a close first quarter 32-32, the Spurs outplayed the Thunder in second the 33-23. OKC Thunder never recovered from the deficit as San Antonio built a 20-point lead heading into the final quarter.
"We played so much harder, sharper, smarter, everything we talked about," Ginobili said. "It was a fun-to-play and fun-to-watch game. So when we play like this it's a completely different story."
Serge Ibaka, who was the difference-maker in last two games, was held to just six points and two rebounds. They also managed to keep Russell Westbrook out of the paint, as he finished with 21 points and four rebounds.
"He didn't have the games that he had the last two games, that's pretty clear," Oklahoma's coach Scott Brooks said about Ibaka. "I thought his energy was good. He competed. He missed some shots that he normally makes. [But] it was everybody. It was everybody."
Tim Duncan racked up 22 points and 12 rebounds, Manu Ginobili finished with 19 points, and Danny Green and Kawhi Leonard ended with 14 points each for San Antonio. Brooks said his team defended poorly against the Spurs.
"We gave them everything they wanted," Brooks said. "They got the dribble drive, they got the 3-point line, and they got to the free-throw line."
Both teams have utilised their home-court advantage in the Western Conference finals by winning all their respective games at home.
"Obviously, it seems like the home court motivates both teams pretty well," San Antonio's coach Gregg Popovich said. "That's one thing I guess you could say. They both look like they feel pretty comfortable playing at home. So that's why we've opted not to go to OKC."
After winning the first two games convincingly, the Spurs were outplayed in the next two, before bouncing back in the crucial Game 5.
San Antonio's Tony Parker urged his teammates to come out with the same intensity in the next game to break OKC Thunder's winning streak. "We need to keep that same energy going into the next game at their place," Parker said.
Find the Oklahoma City Thunder vs San Antonio Spurs Highlights Information HERE.