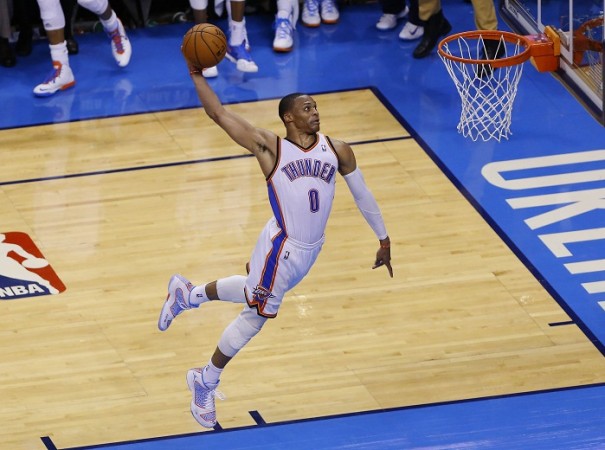 The Oklahoma City Thunder displayed much better performance in the third game of the Western Conference finals to beat the San Antonio Spurs 106-97 at the Chesapeake Energy Arena on Sunday night.
Oklahoma displayed much better defence in the presence of Serge Ibaka, who was making a comeback from a calf strain, in the third game. Ibaka helped the Thunder to dominate the Spurs and cut their lead to 2-1 in the conference finals.
Ibaka played equally well on both sides of the court by scoring 15 points and displaying a strong presence by blocking and altering shots, as he ended with seven rebounds and four blocks.
"When you talk about a teammate, that's everything you want in a teammate," the Thunder's Kevin Durant said. "I gained so much more respect for Serge for sacrificing himself for the team. Regardless of what happened tonight, that's something you want beside you."
The Thunder and the Spurs started the game well with just one point separating them in the first quarter. OKC Thunder built a four-point lead heading into the second-half, which was further stretched to eight points heading into the final run of play. Oklahoma built a 20 points advantage over San Antonio with 3:17 minutes remaining in the fourth quarter.
"Hopefully we realize that if we're not intense, not very sharp and don't hustle like crazy, we're not going to win here," San Antonio's Manu Ginobili said. "They showed us reality. Hopefully we react in game four and play a much better game."
Thunder's coach Scott Brooks said he had full confidence in his team's bounce-back ability and his players performed better than San Antonio to rally back in the series.
"I knew that we were a better team than losing by 30," Brooks said. "It's not us. It was us that night, but we're a much better team than that. I have a lot of respect for San Antonio, but they're not that much better than us. We bounced back tonight. We always talk about that bounce-back ability and we had that tonight."
San Antonio coach Gregg Popovich said he is disappointed after losing the third game and they were completely outplayed by OKC Thunder.
"I was very disappointed that we didn't come out with more of a foot in the neck sort of attitude," San Antonio coach Gregg Popovich said. "They killed us on the boards, they beat us in 50-50 balls and that's very disappointing to me."
Find the highlights of San Antonio Spurs and Oklahoma City Thunder HERE.