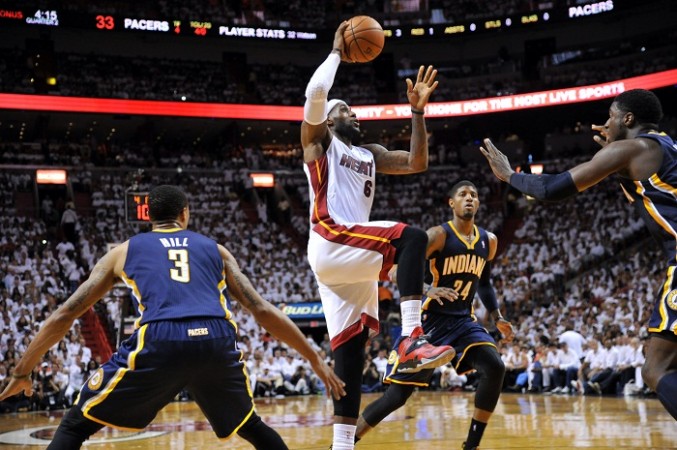 The defending champions Miami Heat defeated the Indiana Pacers 102-90 to build a 3-1 lead in the Eastern Conference finals, and now they are just one win away from making it to the NBA finals.
Miami completely outplayed Indiana in the opening quarter by taking a 23-point lead at one point. The Pacers rallied back in the second with a 25-21 outcome to cut the deficit.
The Heat were leading by five points at the halfway mark and put the game to bed by outscoring the Pacers 31-20 in the third quarter. In the final quarter, Indiana cut the deficit to nine points, but LeBron James came to the party to shut out any chance of a comeback.
James said the team is satisfied with the result and they are getting better with every game in the playoffs. "We try to get better every single day, every single game," James said. "When you do that and go out and play the type of game that you are capable of playing, you can be satisfied with the results. And that's what we've built over the years."
Roy Hibbert went scoreless in the game as he missed all of his four shots, while Lance Stephenson only managed to add nine points for the Pacers. Paul George scored 23 points, David West ended with 20 points and 12 rebounds and George Hill finished with 15 points, but couldn't avoid defeat in the fourth game.
"We got outplayed by the Heat," Pacers' coach Frank Vogel said. "I wasn't disappointed in our fight. I was disappointed in the result."
The Pacers will return home for Game 5 and they have a colossal task in front to cut Miami's lead in the conference finals. "We have a chance to play an NBA game on our home floor," West said. "We are going to try to do something that's very tough."
After starting badly in last few games, in which the Heat have had to rally back from a first quarter deficit, Bosh provided a good start by scoring the first eight points of the game. "I told him he was going to have a great game," James said about Bosh. "We got off to a fast start because of him."
Stephenson had said before the game that he has found ways to confine James, but still Miami's star player managed to rack up 32 points and 10 rebounds. "I was trying to get into his head," Stephenson said. "I guess he stepped up and got the win. I can take the heat."
Bosh finished with 25 points, while Dwyane Wade added 15 points in Miami's victory.
Watch the highlights of Indiana Pacers vs Miami Heat game HERE.