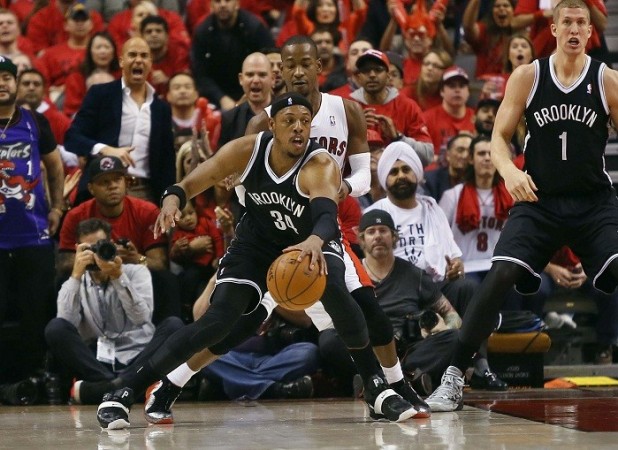 A late block from Paul Pierce helped the Brooklyn Nets beat the Toronto Raptors in the seventh game of the first-round playoff series at the Air Canada Center.
Kyle Lowry top-scored for the Raptors with 28 points, while Amir Johnson scored 20 points and 10 rebounds, but the Nets hung on to their lead in the dying stages to win the game 104-103. They will face the Miami Heat in the second-round Eastern Conference postseason series.
The Nets started the game strongly, as they were leading by 12 points by the end of the second quarter. After finishing the third quarter on 20-20, the Raptors rallied back in the fourth to cut the deficit to just five points.
Pierce suffered foul trouble, but his only block of the game on Lowry in the final moments helped Brooklyn earn a hard-fought victory.
"I really didn't have a great offensive game," Pierce said. "I was in foul trouble for most of the night. Sometimes you've got to find ways to help your ball club win."
"Paul said it best, that's why he's here, to make plays," Nets' coach Jason Kidd said. "He didn't have a great game, but it only takes one play to help a team win and that's what he did tonight."
In the second game of the day, the San Antonio Spurs outplayed the Dallas Mavericks 119-96 in Game 7.
Tony Parker, who ended with 32 points, four rebounds and as many assists starred in San Antonio's comfortable victory. Manu Ginobili added 20 points, Danny Green scored 16 points and Tim Duncan had 15 points for the Spurs.
"Everybody was active and kind of focused," Duncan said. "We had very little mistakes."
The Mavericks were unable to respond to the quick start, and they were chasing the Spurs in the whole game. San Antonio built a solid 22-point lead by the end of first half, the lead was further stretched to 26 points in the third quarter.
"We gave ourselves a chance but today we got hit by a tidal wave early," Dallas coach Rick Carlisle said. "They had their best game today and we just weren't able to do quite enough to stay in it early. It's hard when you get hit with an onslaught early the way the guys did."
Dirk Nowitzki finished the game with 22 points and nine rebounds, but it was not enough for Dallas as they were knocked out of the competition.
San Antonio will be facing the Portland Trail Blazers in the second-round series starting at home.
Catch Brooklyn Nets v Toronto Raptors Game 7 highlights HERE.
Catch San Antonio Spurs v Dallas Mavericks Game 7 highlights HERE.