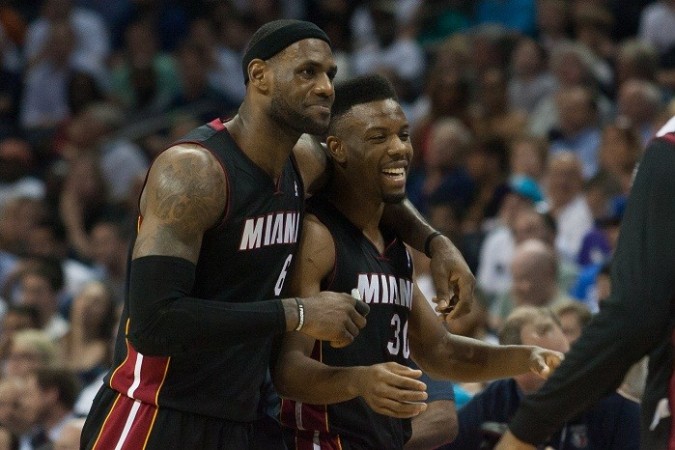 Miami Heat defeated the Charlotte Bobcats 109-98 in the fourth NBA playoff game to complete a 4-0 first-round sweep. This is Miami's 20th straight victory over Charlotte and ninth consecutive victory in postseason games.
LeBron James was the top scorer for Miami with 31 points and nine assists, while Chris Bosh added 17 points. The Bobcats played without its leading scorer Al Jefferson, who was sat out with a foot injury. Kemba Walker was their leading scorer with 29 points.
Dwyane Wade spent most of his fourth quarter on the bench because of foul trouble, but still Charlotte never got close to Miami as James stepped up his game. He overcome a thigh injury scare following a collision with Bismack Biyombo, scoring 11 points in the final quarter.
"LeBron was terrific during that stretch of the fourth quarter," Heat coach Erik Spoelstra said. "I thought the last 5 minutes of the fourth quarter there was great execution and trust and the ball was moving and it was just working to the open guy. That was encouraging to see, especially at that time in the game."
In the second game of the day, the Indiana Pacers again failed to register back-to-back wins and went down 107-97 at home against the Atlanta Hawks. With the victory, the Hawks now lead 3-2 with Game 6 in Atlanta.
Shelvin Mack led the Hawks with 20 points, while Mike Scott scored 17 points, all in the second quarter. Atlanta was leading the game by 30 points at the halftime, but Indiana rallied, cutting the lead to just nine points in the fourth quarter. However it proved to be too little too late as the visitors held on for the win.
Paul George was the top scorer with 26 points for Indiana, but he got little support from his teammates, as Lance Stephenson, George Hill and David West all ended with 16 points each. Roy Hibbert had a terrible game and for the first time in his career finished without a single point or rebound.
"We don't do much for moral victories, we just dropped the ball," a disappointed West said. "Everybody's got to be ready to play and I didn't think we responded well enough."
In the third game of the day, the San Antonio Spurs squared their first round series with the Dallas Mavericks 2-2, beating their opponents 93-89.
Early in the third quarter, Spurs were leading the game by 20 points, but Dallas rallied back brilliantly to take the lead in the fourth. However, with less than a minute left, Boris Diaw hit a crucial three-pointer and Manu Ginobili converted two big free throws to give Spurs a massive win.
Tim Duncan scored 14 points and 10 rebounds and Diaw finished the game with 17 points for the Spurs. Monta Ellis added 20 points for Dallas, while Dirk Nowitzki had 19 points.
Catch highlights of Miami Heat v Charlotte Bobcats HERE.
Catch highlights of Atlanta Hawks v Indiana Pacers HERE.
Catch highlights of San Antonio Spurs v Dallas Mavericks HERE.