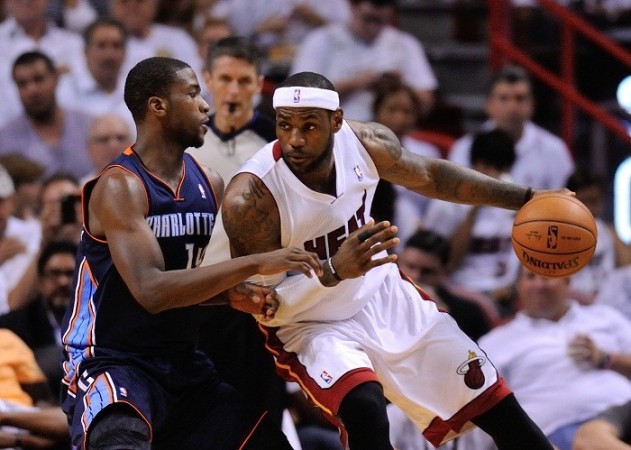 It was again the star player LeBron James who helped the Miami Heat battle past the Charlotte Bobcats in the second game of the NBA playoffs Eastern Conference first round series. Bobcats were outplayed in the first quarter 29-19, but they put up an inspiring performance in the remaining quarters only to go down 101-97.
James ended with 32 points and eight assists, while Chris Bosh added 20 points for Miami. Dwyane Wade continued his impressive performance with a 15-point show and a steal off Chris Douglas-Roberts in the dying moments.
Michael Kidd-Gilchrist added 22 points for Bobcats, while Al Jefferson, who played with a left plantar fascia strain, was nowhere close to his best, although he still managed to put up 18 points and 13 rebounds. Jefferson also insisted he will be playing in the forthcoming games.
"He's not anywhere close to 100 percent," Bobcats coach Steve Clifford said. "But we can play through him.... You've got to respect the fact he's out there battling. He has no mobility, basically. Limited mobility and yet he had 18 and 13, and he fought hard."
In the second game of the day, the Dallas Mavericks registered their first win in the playoffs since 2011 to level series 1-1 against the top-ranked San Antonio Spurs. Mavericks, after marginally losing the first game, tightened their defense to register a comfortable 113-92 win over Spurs in Game 2.
Mavericks stepped up their play and showed aggressive an defense and offense and never trailed in the game after the first minute of the opening quarter. Monta Ellis ended with 21 points, while Shawn Marion finished the game with 20 points and Dirk Nowitzki scored 16 points.
Spurs struggled with long-range efforts as they finished with just five-for-14 from beyond the three-point arc, as no players apart from the big three of Tony Parker, Tim Duncan and Manu Ginobili managed to score more than seven points. Ginobili, Parker and Duncan finished with 27, 12 and 11 points respectively.
"It's pretty frustrating," San Antonio's Danny Green said. "They're doing a good job of getting, not just to me, but all our shooters, showing us a lot of respect. But we've got to find other ways to get it done. We can't rely on our Big Three to carry us every night. Got to find a way to get involved, push the pace offensively."
In the final game of the day, LaMarcus Aldridge powered the Portland Trail Blazers to a second straight win in their Western Confernce first round series over the Houston Rockets. After trailing the first quarter 31-23, the Blazers rallied to nicely to dominate the Rockets in the final three quarters.
Damian Lillard scored 18, while Aldridge added 43 points to outlast the Rockets 112-105. Aldridge became the first player to have consecutive 40 point efforts in the postseason since James, who did it in May 2009.
Dwight Howard started the game strongly and scored 25 points in the first half, but lost the momentum in the second, eventually finishing with 32. James Harden, again had a difficult outing, just like the previous game, as he only managed 18 points making just with six shots out of 19.
Catch the highlights of Charlotte Bobcats v Miami Heat game HERE.
Catch the highlights of Dallas Mavericks v San Antonio Spurs game HERE.
Catch the highlights of Portland Trail Blazers v Houston Rockets game HERE.