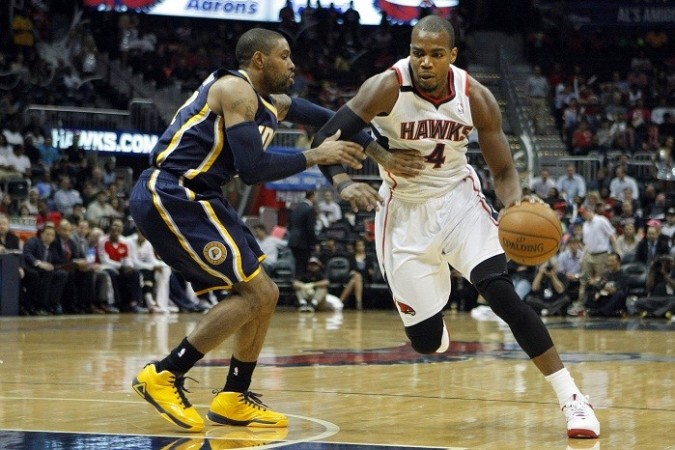 Atlanta Hawks looked to be in great shape in their first home game as they defeated top-seeded Indiana Pacers 85-98 at the Philips Arena. After a close contest in the first two quarters, Hawks took control of the third, to pull off another major upset in the postseason.
Lance Stephenson led the Pacers charge with 21 points and 13 rebounds, to avoid their ninth lose in 11 games but Hawks kept them at bay to send Indiana on the ropes again. The visitors got subpar performance from their top players as Paul George, who suffered early foul troubles, only scored 16 points and 14 rebounds, while Roy Hibbert added just four points.
Jeff Teague finished with 22 points, including a wild three-pointer in which his foot clipped the arc, and Kyle Korver scored 20 points to lead Atlanta against struggling Indiana.
Indiana's coach Frank Vogel said that they have not played well in the series and he might consider changing the lineup in the forthcoming tie. "We're going to look at everything," Vogel stressed. "He has not played well in the series to this point. But we still have confidence in Roy Hibbert."
In the second match of the day, Memphis Grizzlies survived a late charge from Oklahoma City Thunders to register a 95-98 win in overtime. Grizzlies blew their 17 points last quarter lead as Thunders rallied to dominate the fourth quarter 24-14.
Russell Westbrook and Kevin Durant scored 30 points each, and gave Oklahoma one final chance to keep the contest alive, by taking the game to OT.
After going cold in regulation time, Memphis stepped up their game and sealed the match. Mike Conley scored five points in OT and finished the game with 20 points and five rebounds. Marc Gasol finished the match with 14 points, whereas Beno Udrih scored 12 points.
OCT coach Scott Brooks is hopeful that his team will bounce back and level the series. "We just got to stay together, and we will do that," Brooks said. "We're down right now in the series 1-2, but just got to focus all of our attention after tomorrow's review of the film together as a group and take it all to the next game and do our best to tie it up and take it home 2-2."
In the final game of the day, Los Angeles Clippers defeated Golden State Warriors 98-96 to lead the series 2-1. The visitors rallied from an eight-point deficit to dominate the fourth quarter to give Clippers a scare in the dying moments.
DeAndre Jordan finished with 14 points and 22 rebounds, while Blake Griffin ended the game with 32 points and eight rebounds. Stephen Curry scored 16 points and 15 assists, while Klay Thompson had 26 points.
Before the fourth quarter, Clippers dominated the game as both Jordan and Griffin scored a lot of points from paint and also kept Curry in check and forced him to take difficult shots from the perimeter.
This was a huge victory for the third-seeded Clippers, who had lost five consecutive games in Oakland, with an overall record of 15 loses in 17 matches.
(Ed: VP)
Catch Indiana Pacers v Atlanta Hawks highlights HERE.
Catch Oklahoma City Thunders v Memphis Grizzlies highlights HERE.
Catch Los Angeles Clippers v Golden State Warriors highlights HERE.