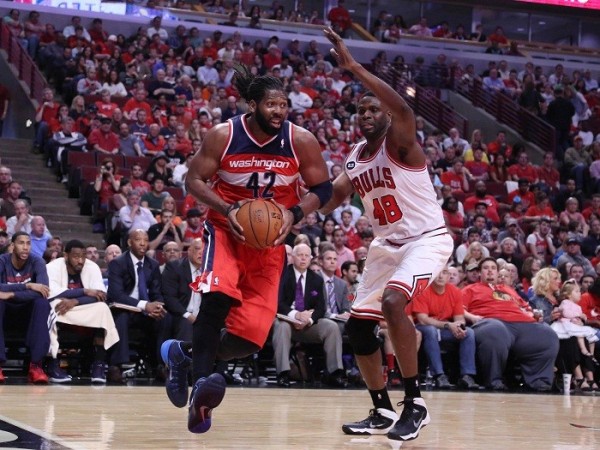 Washington Wizards scored a come-from-behind victory over the Chicago Bulls in their first playoff game to open quite a few eyes. Playing in their first postseason game since 2008, Wizards are heading into the second game high on confidence, after they overcame a 13-point deficit to script a comeback win in the opening tie.
Bulls need to tighten their defense, as they gave the Wizards too much space for shooting, which allowed them to post another 100-point performance, courtesy Nene and Trevor Ariza, who scored 18 points.
Wizards, who scored freely in Game 1, would be hoping to keep the momentum going with John Wall and Marcin Gortat. The Randy Wittman-coached outfit also kept possession in crunch situations, which was pointed out by the coach right after the game.
"You have to stay in the moment," Wittman said. "There will be times in the playoffs where we have to survive and stay in the game with six or seven straight possessions and not score. Both teams can do that. Who is going to stay in the fight when you do that? We did. We had a period where they outplayed us, no question about it. We had to get that back, and in the second half, I thought we did."
The Bull's lack of defensive effort was evident. The hosts need to get back to their defensive best, which they were doing all season long, and cut down scoring from the paint.
The problems in defense does not fall on Joakim Noah alone, others need to step up and stop giving easy baskets, otherwise it would turn out to be a short series for the Bulls. They have to come out stronger in their home court and seal the deal, as they know that it is a must-win situation and they had let the first game slip away from them.
Bulls coach Tom Thibodeau acknowledged the Wizards played pretty well against them and they need to tighten their defense ahead of Game 2. "You look at how they played down the stretch, you know how good they are," Thibodeau said.
Nene was scoring freely against the Defensive Player of the Year Noah, and dominated the game with 24 points and eight rebounds. Shooting guard Mike Dunleavy Jr. said the Brazilian created a lot of problems for his side in the last game.
"He's as strong as they come down there on the block," Mike Dunleavy Jr. said. "And he's long, too. Presents a lot of problems."
Where to Watch Live
The game is scheduled for a 9:30 pm ET (7:00 am IST, 10:00 am GMT) start with live coverage on TNT in the US and Sony Six and Sony Six HD in India. The game can be watched via live streaming online in the US HERE or HERE. The game can be live streamed by international viewers, including India, HERE.