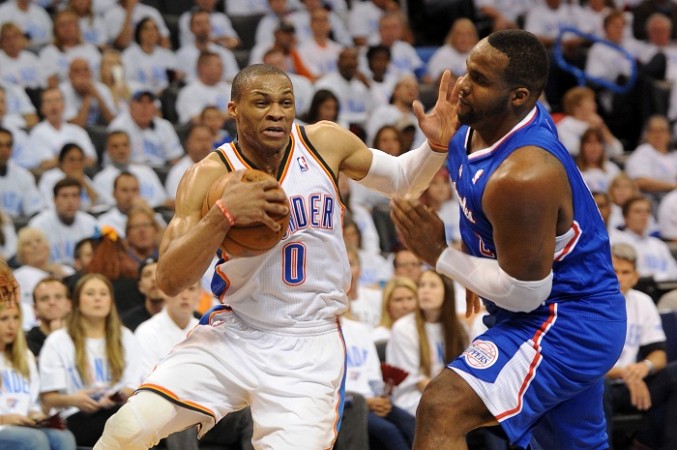 The Oklahoma City Thunder are leading the second round Western Conference series 3-2 against the Los Angeles Clippers. Both teams have traded close finishes and there is very little to separate between them.
In the last encounter, the Thunder scripted a stunning come-from-behind victory at the Chesapeake Energy Arena, when they rallied from a seven-point deficit in the final 50 seconds of the game.
The result could have gone either way and the Clippers can believe they can take the series to the seventh game, while OKC will be looking to close out the series in Game 6.
Los Angeles' Blake Griffin said they made a number of mistakes in the game and the loss was not any single player's fault. Griffin was referring to Chris Paul, who took the blame on himself after making a crucial foul on Russell Westbrook in the closing stages of the game.
"He was visibly upset, and I told him that game is not on one guy," Griffin said. "It's not on him. We made plenty of mistakes down the stretch, plenty of mistakes throughout the game that could ultimately change the outcome. That idea that the game is on him, you understand what he's saying, but it's not on him by any means. We still have two games left to play."
The Clippers' coach Doc Rivers said his team has enough resilience to take the series into the seventh game, but they have to produce "something special" in the crucial Game 6. Rivers added it is going to be tough, but the players have to deal with it.
"You don't win it easy," Rivers said. "We're trying to do something special here and be something special. And if you're trying to stand out in any job, it's going to be hard. You're going to face adversity, and you've just got to accept that that's part of the process.
"Yeah, this is hard. It's supposed to be. And that's the only thing I told our guys. What's going on right now is exactly what should happen to win. You have to go through stuff to win, and you've just got to deal with it."
Griffin believes the team has done a great job this season despite all the off-field dramas. "I think we've done a pretty good job this season and in the postseason of putting things in the past and just moving forward," said Griffin.
Where to Watch Live
The game is scheduled for a 10:30 pm ET (8:00 am IST, 2:30 am GMT) start, with live coverage on Sony Six and Sony Six HD in India. The game can be watched via live streaming option HERE. The game can be live streamed by international viewers, including India, HERE.