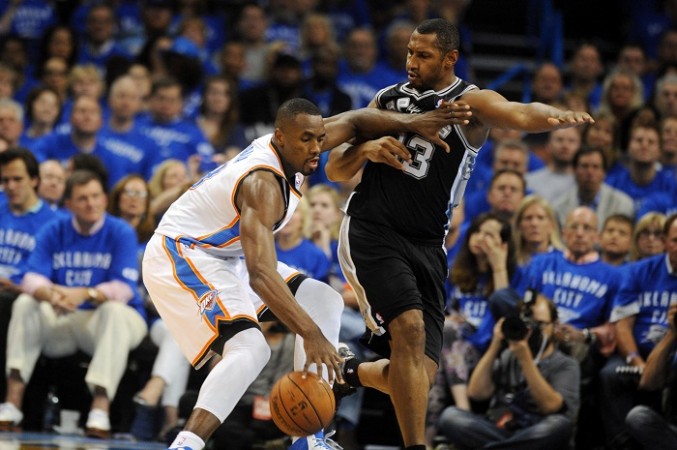 Oklahoma City Thunder are set to face San Antonio Spurs in the crucial fourth game of the Western Conference finals at the Chesapeake Energy Arena on Tuesday night.
After losing the first two games, the Thunder made a turnaround in the series as they defeated the Spurs in the third tie to cut the deficit. Serge Ibaka, who made his return from a calf strain, propelled Oklahoma and marked his presence on both sides of the court.
Ibaka is expected to play the fourth game as well, after finishing the last game with 15 points, seven rebounds and four blocks. NBA's leading blocker spent plenty of time on the court and said his left calf is now feeling well.
But the 24-year-old is not 100 percent fit yet as he had to deal with some pain, and looked slow on the court but still managed to play a vital role in the Thunder's victory.
"It was kind of hard a little bit with my feet. I was using more my right foot than left foot. I could not do too much last night. After we saw the video, I felt like I was slow," Ibaka stressed.
San Antonio was running away with the series by winning the first two games pretty convincingly but with Ibaka returning to OKC, the Spurs never looked the same team.
"I love what he did," Oklahoma coach Scott Brooks pointed out. "I love the determination that he played with. That's something that he's done all along. That was a great, great game by him. He impacted the game both ends of the floor."
Tony Parker struggled against Russell Westbrook and Reggie Jackson, and only converted four out of his 13 shots, eventually finishing with nine points and four assists.
"I take a lot of responsibility," Parker said. "That's my job on this team, to get everything going. That's why I took it hard last night, because I felt like I didn't play well."
Ibaka might have made an impact against the Spurs but San Antonio's Tim Duncan feels they also have other problems to deal with. Duncan said the players have to improve rebounding, shooting and remain more aggressive in the game.
"We just need to play better, shoot the ball better," Duncan stated. "Just continue to attack and be more aggressive and try to get to the basket, get to the free throw line, just get them on their heels a little bit. I think we got on our heels too much, and the result was what it was."
Where to Watch Live
The game is scheduled for an 9:00 pm ET (6:30 am IST, 1:00 am GMT) start with live coverage on TNT in the US and Sony Six and Sony Six HD in India. The game can be watched via live streaming option in the US HERE or HERE. The game can be live streamed by international viewers, including India, HERE.