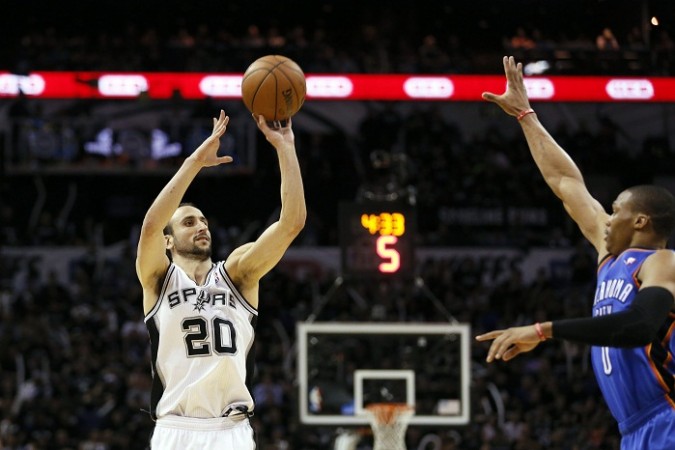 After losing the first game, the Oklahoma City Thunder will play the San Antonio Spurs in Game 2 of the Western Conference finals looking to tie the series at the AT&T Center on Wednesday night.
The Spurs overpowered the Thunder in Game 1, playing equally well on both sides of the court, scoring 66 points from the paint and shooting 58 percent from the field.
Oklahoma's MVP Kevin Durant racked up 28 points in Game 1, but it wasn't enough as OKC defended poorly without the injured Serge Ibaka.
"Look, Serge is not going to be here," Durant said after the opening game. "He's injured for the rest of the postseason, so we've got to move past that and just keep playing as a team."
Durant and Westbrook scored 19 points in the first seven minutes of the second half to bring Oklahoma back into the game, but only managed to score nine points in the final 17 minutes as they both received very little help from their teammates.
"We turned the ball over a little too much but we've got to continue to trust whether the guys are hitting shots or not," Durant said. We've got to keep playing within our offense and playing with the pass. We'll be fine. We do a good job of attacking, not just for ourselves, but for our teammates. We've just got to continue to trust."
Westbrook and Durant scored the majority of points for the Thunder and Spurs coach Gregg Popovich said it would be difficult to stop them, but his players will make scoring tough for them.
"They're not going to be stopped but if those kinds of players can be made to work hard and just take something away, it can work to your advantage," Spurs coach Gregg Popovich said.
Oklahoma will not want to leave San Antonio 2-0 down in the series and Westbrook said they will give a tough fight to the Spurs in the crucial second encounter.
"I don't necessarily say we have to be perfect, just get it done," Westbrook said. "Whatever we need to do to get it done. There will be times when they're going to make plays. They're a great team. There will be times that we're going to make plays. But we've just going to continue to stay with it."
Where to Watch Live
The game is scheduled for a 9:00 pm ET (6:30 am IST, 1:00 am GMT) start with live coverage on TNT in the US and Sony Six and Sony Six HD in India. The game can be watched via live streaming option in the US HERE or HERE. The game can be live streamed by international viewers, including India, HERE.