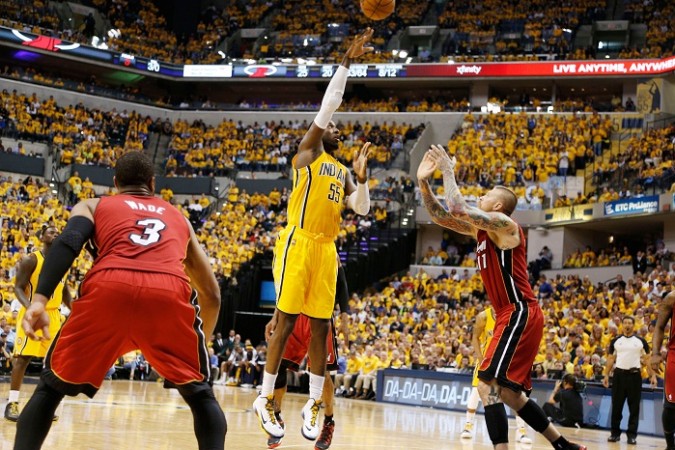 Indiana Pacers, after registering a victory in Game 1, will be hoping to carry the momentum in the second encounter as well to defend the home-court advantage against the Miami Heat at the Bakers Life Fieldhouse on Tuesday night.
Indiana returned to form with an impressive 107-96 victory over the defending champions in the Eastern Conference finals Game 1 and played equally good on both sides of the court.
The Heat defended poorly in the first game and will be aiming to leave their defensive troubles behind them to level the series. Miami's star player LeBron James said he is prepared to put extra effort in Game 2 to even the series.
"My approach is the same every game, try to put pressure on the defense, try to get to the free-throw line to help us win," James said. "I got to the rim, I got my shots going, but I've got to do a little more, too."
James has been Miami's top scorer in the playoffs so far and was pivotal in the series victory over the Brooklyn Nets in the previous round. Indiana's Paul George said James will be playing aggressively and it is not going to be an easy task to guard him.
"He [James] will shoulder everything. I think he's going to be much more aggressive with the ball," George said. "I think he's going to be looking to make more plays, looking to shoot more shots and really looking to get guys going. It's going to be a tough night for me, but that's part of the league."
Miami's coach Eric Spoelstra said the team needs to leave the first game behind them and start afresh in the Eastern Conference finals. "We don't really care about what's happened in the past," Spoelstra said on Monday. "We understand the urgency of a response for tomorrow night."
James said the team is ready for Game 2 and Miami is taking it as a 'must-win' tie. "We cleaned a lot of things up today and we're ready for tomorrow," James said. "You just go in with the mindset that it's a must-win and we go at it tomorrow."
George said home-court advantage alone is not going to win Indiana the second game. "We know we're playing against the champions, the two-time champions," George said. "We know they're going to come out and make adjustments.
Everything we did [Sunday] has got to be that much more in Game 2 in order for us to move on."
Where to Watch Live:
The game is scheduled for an 8:30 pm ET (6 am IST, 12:30 am GMT) start, with live coverage on Sony Six and Sony Six HD in India. The game can be watched via live streaming option HERE. The game can be live streamed by international viewers, including India, HERE.