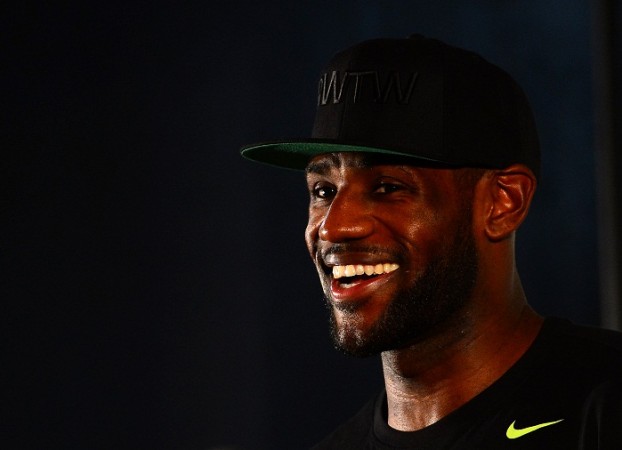 Four-time NBA's Most Valuable Player (MVP) LeBron James insisted that he will not enter free agency next season, despite having a clause in his contract that allows him to became a free agent after his first season with the Cleveland Cavaliers.
James recently parted ways with the Miami Heat to join the Cleveland Cavaliers on a two-year contract that can go up to $88 million. The two-time NBA champion believes that he might spend the rest of his career with the Cavaliers.
"My No. 1 goal is to win a championship here; it'd be the greatest achievement in my life," James said. "I don't plan on going nowhere. I don't have the energy to do it again."
However, there are speculations that James might hit free agency again when his contract expires. In 2016, NBA is set to sign a new television deal, which could increase salary caps drastically and James, whose contract also expires in 2016, will benefit from it.
"At the end of the day, I'm a businessman as well," James said. "I know what is going on in the league."
The Cavaliers are also trying to keep James at Cleveland and are looking to give their star player a strong team.
They are set to sign Kevin Love in a couple of weeks from the Minnesota Timberwolves but James insisted that despite making big signings, getting back that winning momentum will take time.
"Even with the veterans we've brought in, even if we're able to acquire Kevin Love two weeks from now, it's still going to be a process," James said. "I know that firsthand. It was a process when I was in Cleveland. It was a process in Miami. It's going to be a challenge."
James said it is nice to be a part of a developing team and he is looking forward to playing alongside Kyrie Irving, Dion Waiters and Tristan Thompson. James, however, added that it will take time to inspire them.
Meanwhile, James' former teammate Ray Allen could sign for the Cavaliers, according to ESPN. Allen spent two seasons with James at Miami and the 10-time All-Star had hinted that he wants to play with his former teammate.
Allen, however, has maintained that he is considering retirement and his agent also said that the 39-year-old is yet to decide his future. Nevertheless, reports suggest that he will play next season and Cavs are in pole position to sign him because of James' presence in Cleveland.