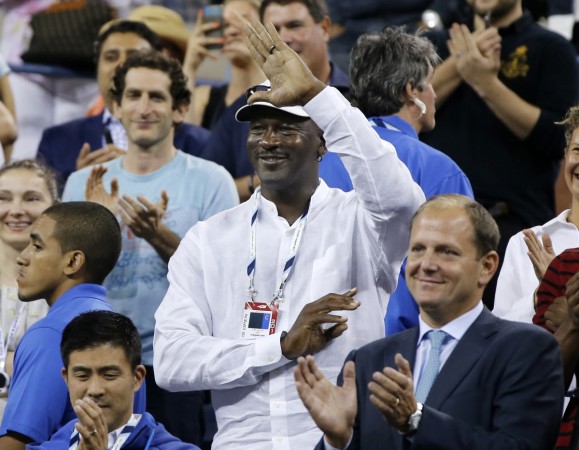 To be able to watch two of the NBA's greatest players -- Michael Jordan and LeBron James -- in action against each another when they were at their prime would have been outstanding. The two stars, who have won a number of games on their own single-handedly, would have made it an interesting duel, with opinion on who would win the contest polarised.
However, as far as Jordan is concerned, there will be only one winner. The Chicago Bulls legend said he could have beaten James in a one-on-one game during his prime. "This is the ESPN question," Jordan said. "I know it's going to be all over ESPN. If I was in my prime, could I beat Lebron in a one-on-one game? No question. And he's going to say no question."
Jordan was quizzed on various topics including, Stephen Curry and Kobe Bryant and the legendary player, as usual, gave some interesting answers during a Q&A session at the 20th Michael Jordan Flight School in Santa Barbara, California.
Jordan said, if given an option to take on either Curry or James in a one-on-one game, he would go up against Curry, considering the size advantage.
"If I had the chance to go one-on-one with Stephen Curry or LeBron, which one would I chose? Right now or when I was in my prime? Right now? Well, I'd go against Stephen Curry because I'm a little bit bigger than him so I could back him in, but LeBron's a little bit too big," said Jordan.
The NBA star was a part of the legendary Chicago Bulls team, which included players such as Scottie Pippen, Denis Rodman and Steve Kerr. They dominated the NBA, the way Lakers did when the duo of Shaquille O'Neal and Kobe Bryant combined to take the franchise to another level in the NBA.
Hence in such an open questionnaire, the question of all-time Bulls vs. all-time Lakers was bound to come up and the legend said: "I knew that was coming! What did I think about when Shaq said the all-time five greatest Lakers could beat the Bulls' five greatest players? I just felt like he was talking. It's a debate. The thing is we would never know. I think we would've killed them. He thinks they would've killed us. You guys decide."
Jordan praised Bryant's passion for the game and considers the Lakers man as one of the best.
"I think he's one of the great players of the game. I think he's done a lot for the game and he has a true love for the game of basketball. I absolutely have a high regard for him ... even though he stole all my moves, but that's OK. I still love him like a brother," said the NBA legend.