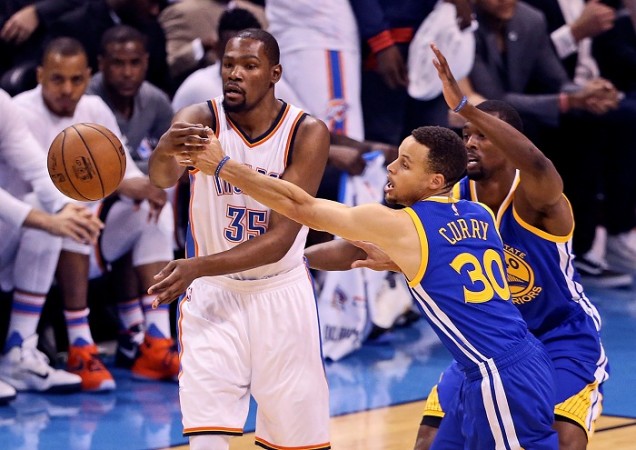 Oklahoma City Thunder's influential figure Kevin Durant has made a huge decision after giving some serious thought, as he is set to join the Golden State Warriors. The star revealed that the decision to join Stephen Curry's team from Thunder was difficult, but he took it to grow as a player.
The former NBA champions will be bolstered with Durant joining a team which already possesses Curry, Klay Thompson and Draymond Green. The Oklahoma City forward will improve the Warriors both offensively as well as defensively. After a brilliant last season for Golden State, they can even think of achieving greater things with Durant in the lineup.
Durant will reportedly sign a two-year contract worth $54.3 million, which will make him the highest paid player on the Warriors roster. It is expected to be finalised on Thursday.
"The primary mandate I had for myself in making this decision was to have it based on the potential for my growth as a player — as that has always steered me in the right direction," Durant wrote in The Players Tribune.
"But I am also at a point in my life where it is of equal importance to find an opportunity that encourages my evolution as a man: moving out of my comfort zone to a new city and community which offers the greatest potential for my contribution and personal growth. With this in mind, I have decided that I am going to join the Golden State Warriors."
There were a number of teams interested in attaining the services of the free agent. The former NBA MVP met teams like San Antonio Spurs, Boston Celtics, Miami Heat and the Los Angeles Clippers, before coming to his final decision.
Durant understands he must have hurt the Thunder fans after making this decision.
"It really pains me to know that I will disappoint so many people with this choice, but I believe I am doing what I feel is the right thing at this point in my life and my playing career," Durant said.
"I will miss Oklahoma City, and the role I have had in building this remarkable team. I will forever cherish the relationships within the organization — the friends and teammates that I went to war with on the court for nine years, and all the fans and people of the community. They have always had my back unconditionally, and I cannot be more grateful for what they have meant to my family and to me."