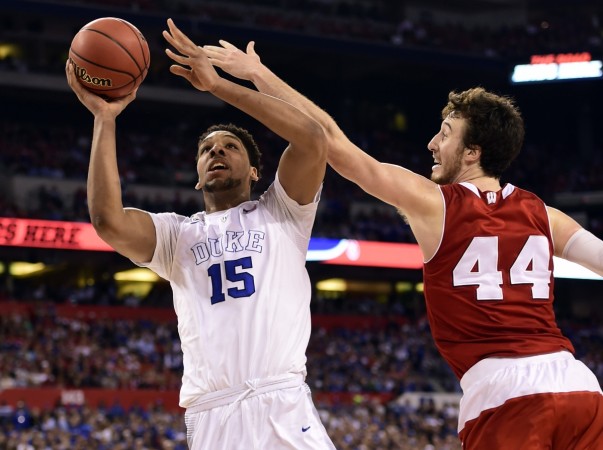 Los Angeles Lakers took many by surprise in the 2015 NBA Draft picking D'Angelo Russell ahead of Jahlil Okafor, who was thought to be on the radar of Lakers. Okafor was hence immediately snapped up by the Philadelphia 76ers. So, it remains to be seen over the course of the season if Philadelphia's gain was Lakers' loss.
But Okafor is a bright talent and has a whole lot of skills to take the NBA by storm. Besides his skills on the court, 76ers will love his winning attitude, which he brings to the court irrespective of the opponent he is put up against.
Standing at 6ft 11in, weighing 275 pounds, he is another big man in the NBA and 76ers will try to make use of the big man to the fullest.
Okafor stated that big men in the NBA have been dominant. Is he hinting about the dominance he is going to showcase in the future years? Only time will tell.
"For as long as I remember, big men have dominated the NBA," Okafor said at a news conference. "People got a little excited because of what Steph Curry did -- and he was fantastic. But as long as I remember, big men have been dominating and the results have been championships."
Okafor is right as big players, such as Shaquille O'Neal, Karl Malone, Tim Duncan, have dominated the circuit. Okafor also began to talk about how he began to watch Tim Duncan and Hakeem Olajuwon, two of the best big guys to have featured in the NBA.
But these players were not only about their height and weight, but also about how they brought the best out of their players on the court and stepped up their game when required. They were influential players of their respective teams as well and are hence legends of the sport.
Okafor said that he modelled his game after Hakeem Olajuwon and Tim Duncan.
"Around sixth or seventh grade, I fell in love with Tim Duncan and his all-around game. That's when I started watching him. Then my father introduced me to Hakeem Olajuwon. Those were the two guys I modelled my game after," said Okafor.
Now Okafor needs to strive more as the NBA is the best professional league in the world and he is going to fight it out against the best in the business.