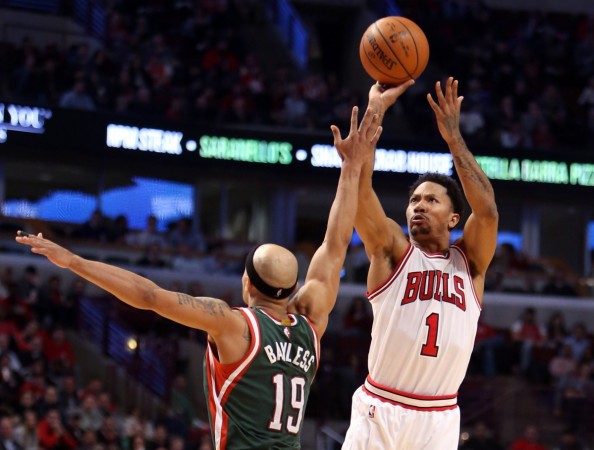 Chicago Bulls have received a major setback, as it was revealed that their star player, Derrick Rose, has suffered another knee injury.
The team announced on Tuesday night that the player will require surgery to repair a torn meniscus in his right knee. It was an exam and subsequent MRI, which confirmed about the torn meniscus.
The date for the surgey has not been outlined, so his return cannot be determined now. This is not for the first time that the player would be undergoing surgery on his right meniscus. He has been troubled with injuries in the past as well.
In November 2013, the player went for a medial meniscus repair in his right knee in November 2013, which saw him miss the entire 2014 Playoffs. Now one need to wait and see whether he will miss the Playoffs once again.
It has not been decided as to whether the player would repair the meniscus or remove it. If the player opts for removal, then the player will recover on time for the Playoffs, but he will also miss more games due to soreness and more importantly, the risk of arthritis also exists, reported CBS Sports.
The Bulls currently lie on the third position of the Eastern Conference, which means they are well on course for the prestigious Playoffs, but what lies uncertain is Rose's presence in the team, which could be a huge factor. Bulls' record for the season so far stands at 36 wins and 21 losses.
Bulls' guard, Rose has been in incredible form as he has averaged 18.4 points per game for the team along with five assists and 3.1 rebounds.
Everyone is aware of the talent that the player possesses and NBA players have tweeted out their support to the NBA star.
LeBron James, the Cavs star tweeted, "Man feel bad for D.Rose! Keep your head up homie and stay strong G!"
Meanwhile, Mo Williams' tweet read, "Noooo not again D Rose. My prayers are way up for you. #godsplan #dontloseyourfaith"
"I feel like I'm hurt, that's how bad I feel for D Rose. Smh #gooddude," he added in another tweet.
And Jamal Crawford tweeted, "Feel so bad for Drose. One of the most genuine superstars out there, even better person..."