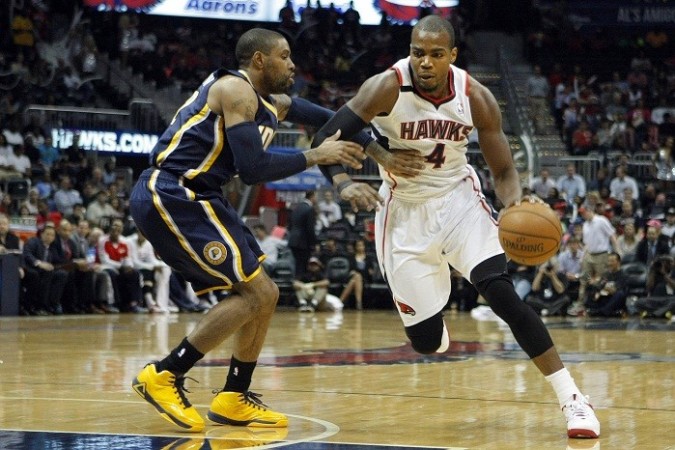 The Atlanta Hawks have become the first NBA team to hand Cleveland Cavaliers their maiden defeat of the season in a close encounter, where the former emerged victorious by four points, 110-106. It was an all-round display from the Hawks, which helped them cross the finishing line with Dennis Schroder top-scoring with 28 points at Quicken Loans Arena.
When LeBron James, Kevin Love and Kyrie Irving shine brightly, more often than not, the Cavaliers are expected to win, but the story was different this time around. Despite James scoring 23 points and Love (24) and Irving (29) scoring quite well, they were outplayed by the Hawks, with Paul Millsap (21) and Kent Bazemore (28) making life difficult for the home team.
The game was expected to be tight and it started on a similar note, with both teams playing some solid basketball to finish the first quarter tied at 20-20. But it was the second quarter, which proved to be the major difference. The Cavs were outscored, with Hawks scoring 33-22.
With the Cavs going down 42-53, and the home team came back strong in the second half with some brilliant basketball, as James and the rest shone. They played some of their best offensive basketball in the third quarter, scoring 37 points, and decreasing Hawks lead.
But a tight fourth quarter from both the teams in the offensive and defensive floor made matters really interesting. Cavaliers finished the fourth quarter, 27-26, but they eventually lost the match 106-110.
Though the Cavaliers will be disappointed with their performance, one should applaud the special performance from the Hawks, who have won their fifth match of the season. The Hawks have showed that they are one of the teams to watch this NBA season, and with players like Millsap, who is their star player, they will not be an easy team to beat for any of the top teams in the competition.