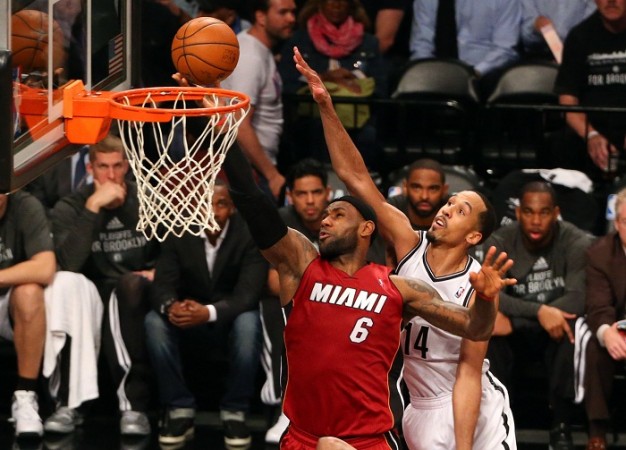 The Miami Heat are back on the winning track after defeating the Brooklyn Nets in the fourth game of the second round Eastern Conference series. They are now just one away from going into the fourth straight finals.
LeBron James carried the Heat almost entirely in the fourth game by scoring 49 points and matching his career-high playoff performance, but fell short of first 50-points postseason play by missing a free throw in the dying moments.
The odds are in the Heat's favour at the American Airlines Arena, and they are likely to advance into the next round with ease, but Dwyane Wade cautioned that the game is not going to be a cakewalk. "This team is not going to give us the game," Wade said. "This series is far from over."
The Nets' season is at stake in the fifth game and their coach Jason Kidd said his team is aware that it's a do or die situation for them.
"It's Game 5. We understand what's at stake," Kidd said. "It's Game 7 for us from here on out. If we lose, it's over. If we win, we fight another day. We can only focus on Game 5 and one quarter at a time."
James is on top of his form at the moment, averaging 30.3 points per game in the second round. He also converted 16 of 24 shots in the last encounter. The four-time MVP said they will be playing with aggressive mindset and heading into the game to seal the series.
"Win. It's the mentality we go into every postseason game," James said. "Play with a sense of urgency defensively, help one another, communicate, try to get the ball moving offensively, get it moving from one side to another and attack. If we do those things, if we do it with a clear mind but at the same time an aggressive mind, we give ourselves a good chance to win."
Brooklyn's Andrei Kirilenko said it is not going to be easy to make a comeback, but the team will give tough fight to Miami in the fifth game. "To win the whole series, you need to win on the road anyway," Kirilenko said. "It's going to be a huge challenge for us but the series is not over yet, so we are going to fight."
Miami's coach Eric Spoelstra said his team is not expecting anything less and his players know how to deal with this situation.
"We wouldn't expect anything else," Spoelstra said. "It's a veteran team. It's not the first time they've been in a situation like this. Both teams know what's at stake. It's great competition. You have to embrace it. We'll have to earn it."
Where to Watch Live
The game is scheduled for a 7:00 pm ET (4:30 am IST, 11:00 pm GMT) start, with live coverage on TNT in the US and Sony Six and Sony Six HD in India. The game can be watched via live streaming option HERE or HERE. The game can be live streamed by international viewers, including India, HERE.