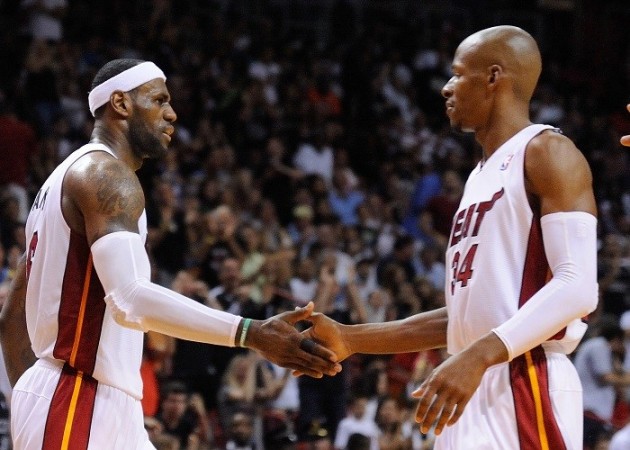 Mike Miller is all set to join his former Miami Heat teammate Lebron James from the Memphis Grizzlies after signing a two-year contract with the Cleveland Cavaliers worth $5.5 million.
Miller is said to have turned down a lucrative $12 million deal with the Denver Nuggets upon consistent persuasion from James, who is said to have insisted on Miller joining him at Cleveland for the new season.
As a free agent, Miller, who had an impressive record last season with per game averages of 7.1 points, 2.5 rebounds and 1.6 assists behind 48.1 percent shooting from the field and 45.9 percent shooting from behind the three-point line, while appearing in all 82 games for the Grizzlies in 2013-2014, is said to have been in great demand.
The news first broke after Chris Broussard of ESPN tweeted about the same and was later confirmed by Yahoo sports.
According to Yahoo sports, Miller, who now enters his 15th year in the NBA, is said to have been actively pursued by the Dallas Mavericks and the Houston Rockets, as they were keen on having him on board, given how valuable a player he is, in terms of contributing to the game and also because of his leadership qualities.
"You have a connection, and it's special from that standpoint. He was my locker mate," former teammate Dwyane Wade told ESPN on Miller's presence in a team: "Obviously, his unbelievable shooting ability is something that not many people have, but just his infectious laugh and how he was in the locker room, we miss that."
Inspite of all the big offers coming his way, Miller could not refuse the chance of being reunited with James, whom he played with for three years and lifted the title with the Heat in two of those three years.
The Cavaliers are hoping for the veteran to help out the defense and also assist James and the other players in scoring well in the new season.
Meanwhile, another potential signing for the Cavaliers is Heat free agent Ray Allen, who is also said to be on James' reunion radar, but the sharp shooter is still undecided on whether he wants to play another season or pull the curtains down on his career.
Considering both their ages, the move looks like a good choice for the 34-year old Miller and 38-year old Allen, as they can consider retiring from the game after taking another shot at the title with James.