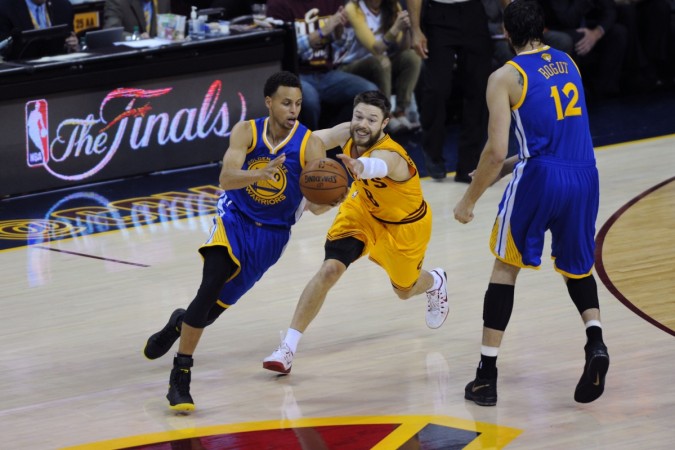 Things are relatively quiet as far as free agent deals are concerned with teams keeping a close eye on their draft picks in the ongoing summer league, but that does not mean they are not going to make deals during the off-season.
Big free agent names have already been dealt with, while some names such as Matthew Dellavedova and JR Smith from the Cavaliers, are yet to sign a new deal with the team.
Dellavedova, who was one of the stars in the NBA finals for the Cavs last season, is yet to sign a new contract and was reportedly said to have received an offer of around $1 million before the free agency started.
The Australian is said to be interested in signing a multi-year deal with $4 million per season, reported Sports Illustrated.
The Cavaliers might not be too ecstatic about his demands. When their starting guard, Kyrie Irving is fit, Dellavedova will spent most of the time in the sideline and only come in for Irving when he is given rest.
The Cavaliers will be eager to keep the player on their team as he showcased during the NBA finals that he had the talent to keep even one of the best players of the league, Stephen Curry, quiet.
No wonder a few days ago general manager David Griffin stated his interest in getting Dellavedova and also JR Smith on the team roster for next season.
"We'd like to bring both of them back if it all can be worked out," Griffin told the media. "In Delly's case, the restricted free agency is a totally different process. With JR, I wouldn't want to characterize the discussion or anything, but he's a player I'd like to have back. We just have to find a way to make it work."
As of now, it seems for the betterment of both Cavaliers and Dellavedova, they need to come to some common grounds and sort out the matter. With other teams having not shown much interest in Dellavedova, it is better for the Australian to agree with whatever new offer the Cavs would come up with.