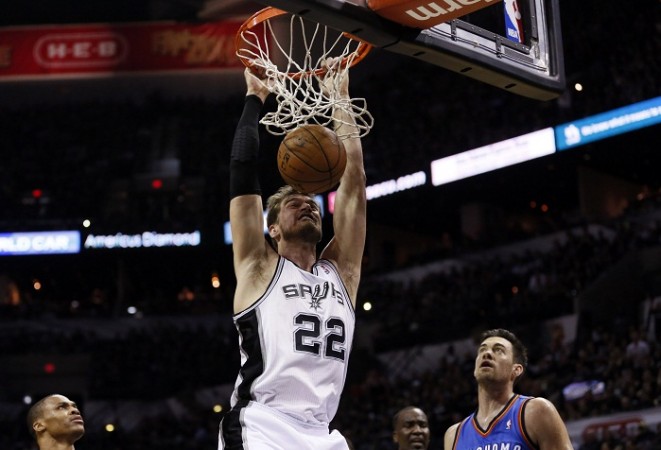 The San Antonio Spurs got off off to a winning start in the Western Conference finals by defeating the Oklahoma City Thunder 122-105 at the AT&T Center on Monday night.
Oklahoma struggled defensively and failed to restrict San Antonio from scoring at will. The Spurs took full advantage of Serge Ibaka's absence by scoring 66 points from the paint and shooting 58 per cent from the field.
San Antonio's Tony Parker was not restricted by a hamstring injury and spent 36 minutes on the court, scoring 14 points and 12 assists. He said Ibaka's absence helped his team in scoring freely from the paint.
"We always want to try to penetrate," Parker said. "We always want our ball movement, that's how we play - kick and pitch and stuff like that. You know, obviously it's a little bit better with (Ibaka) not being in the paint, but we're still going to try to penetrate and make stuff happen."
San Antonio started the game strongly and built a 30-27 lead by the end of the first quarter, which was stretched to 67-59 heading into the halftime. Oklahoma rallied back in the third quarter and briefly went into the lead with a 17-6 run .
It was all San Antonio after that point, however, as they finished the quarter with a 14-6 run. San Antonio closed the game with a 33-23 scoreline in the fourth quarter to take 1-0 lead in the Western Conference finals.
"We knew that we have to play our best game to compete against them, and I think it's great to have an appropriate fear," Parker said. "They played great against us in 2012, and we know that we have to be perfect. They're younger than us and more athletic, and so we have to be more perfect."
Oklahoma City coach Scott Brooks said there are no excuses for the loss and the team needs to perform better in the remaining games in the absence of Ibaka, who has been ruled out for the season.
"We're a no-excuse team," Brooks said. "Serge is out. He's not coming back. We have to play better. If we expect to beat one of the best teams in basketball, and a very good offensive team, we have to play and we're not going to make an excuse."
Kevin Durant scored 28 points and Russell Westbrook ended with 25 points for the Thunder. Tim Duncan racked up 27 points and seven rebounds for the Spurs.
Watch the highlights of Oklahoma City Thunder v San Antonio Spurs HERE.