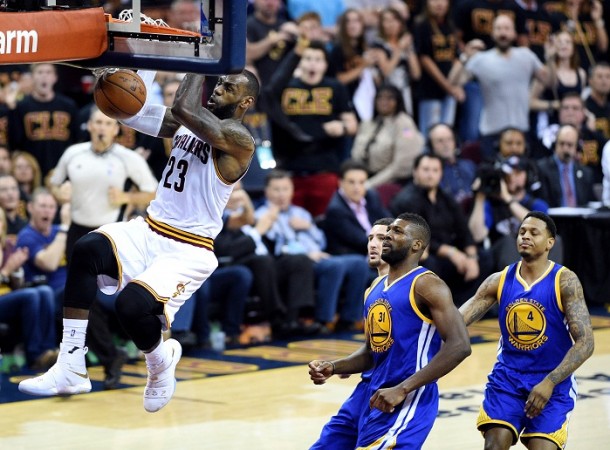 Cleveland Cavaliers, led by LeBron James, were in complete control of the NBA Finals Game 6, with it defeating the Golden State Warriors 115-101 on Thurdsday. The Cavaliers have, hence, taken the NBA finals to Game 7, where the title will be decided.
To make matters worse, with Golden State being outplayed by Cleveland, Stephen Curry was ejected from the game with 4:22 left in the final quarter. The Golden State star sufferred his sixh personal foul, and out of frustration, threw his mouthpiece, which struck a fan as well. It was for the first time that Curry was fouled out since December 2013.
Cleveland had their backs to the wall in the NBA finals, after going down 3-1 in the best-of-seven-series. But, they have crawled back and registered two back-to-back wins, to take it to the decider against the Warriors. In the last two games, James has been the one to stand up, taking his game to another level to help the Cavaliers emerge victorious. The Cleveland star scored 41 points each in Game 6 and 7.
Besides James, Kyrie Irving and Tristian Thompson also played a huge hand in the Game 6 win, scoring 23 and 15 points respectively. The Cavaliers were in confident mood right from the start, scoring as many as 31 points compared to Warriors' 11 in the first quarter. From there, there was no looking back for the Cavs, who played some consistent basketball throughout Game 6.
Though the Warriors did come back and close the gap to a certain extent, they could not really trouble Cleveland after their below par showing in the first quarter. The Cavaliers also finished Game 6 with a bang, scoring 35 points in the fourth quarter.
The Golden State Warriors duo of Curry and Klay Thompson looked good, but they did not receive much support from other players. Curry and Thompson scored 30 and 25 points respectively, but none of the remaining starting players made it to double figures.
With such an impressive win in their last two games, and James' dominant performance, Cavaliers will be upbeat about Game 7, and their chances of winning the NBA title.
"I want to win for sure," nba.com quoted James as saying. "But I want to give everything I've got and we'll see what happens. We forced a Game 7. It's going to be a fun one."