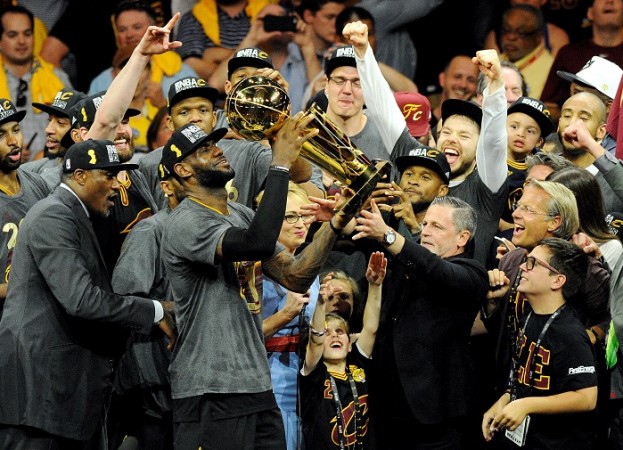 LeBron James returned to Cleveland determined to win an NBA title for his hometown. After falling short last season to the Golden State Warriors and moving to the brink in this year's finals, as a 3-1 deficit stared him and his team in the face, Cleveland stepped up in some serious style, to take this enthralling finals to the title deciding Game 7. And, when it came to that winner-take-all Game 7, James finished with a triple double, Kyrie Irving had 26 points, including a crucial three-pointer at the death, and the Cleveland Cavaliers won their first ever NBA title with a 93-89 victory over the Golden State Warriors.
In a series for the ages, James' legend grew with a performance for the ages and beyond, as the superstar of the NBA finished with 27 points, 11 rebounds and 11 assists, before tumbling down onto the floor as the final seconds ticked away, confirming the end of Cleveland Cavaliers' wait for that elusive NBA title.
In a gripping Game 7, the Cavaliers came out trumps in the final moments, shutting the Warriors out in the final three minutes of the game with great defence. Golden State will find it difficult to swallow this defeat, having led the series 3-1. They were the overwhelming favourites to lift their second straight title after finishing the regular season with an NBA record 73 wins, breaking the mark set by Michael Jordan's Chicago Bulls in the process.
That title run was threatened in the Western Conference finals when the Oklahoma City Thunder jumped to a 3-1 series lead, only to see it pulled back by Stephen Curry and the Warriors.
However, Curry and co. would not have envisaged being on the wrong end of such a comeback so soon, and that too in as important a series as the NBA Finals.
After Cleveland won Games 5 and 6 to force this final into a decider, the title all came down to the last few minutes and a couple of brilliant plays. With the game tied at 89 and under two minutes to go, the Golden State Warriors looked destined to jump into a 91-89 lead when Andre Igoudala and Curry ran forward in a fast break with the two players exchanging passes before the former went up for a layup. However, from nowhere, the Superman that he is, James sprung high to fashion a ridiculous block to keep the game tied.
Then at the other end, the other star of the finals – Irving – shot a brilliant three. Staring down Curry, the Cleveland man with a hand in his face, nailed a three-pointer to give Cleveland a 92-89 lead, a lead the Cavs would not relinquish.