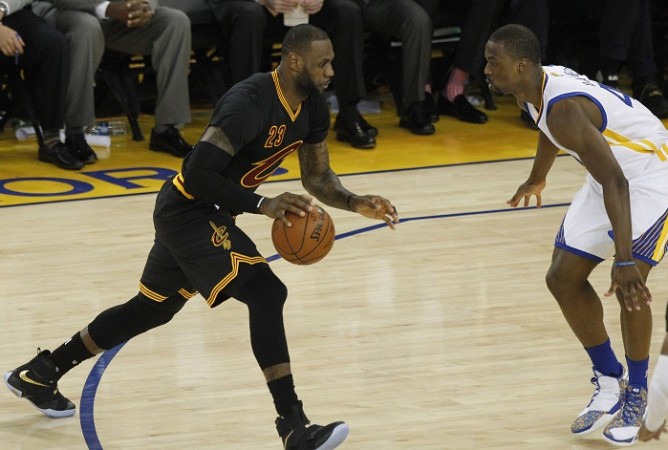 Big players take their game to another level in crunch matches, which is exactly what transpired in NBA Finals Game 5, where the Cleveland Cavaliers' LeBron James and Kyrie Irving scored 41 points each to help defeat the Golden State Warriors on Monday. The final score read 112-97. With this win, Cavaliers are still alive in the NBA Finals, even if they trail the best-of-seven-series 3-2.
However, by no means, did Warriors' Splash brothers look below par in front of their home fans, as Stephen Curry and Klay Thompson had a good scoring night, with 25 and 37 points respectively. But the Cavaliers' determination, along with James and Irving's performances, was too much for the Warriors to handle.
"We're just happy we got another day. That's all we can ask for," nba.com quoted James as saying. "We got another day to survive. We're going to start preparing, start preparing tomorrow and whenever Game 6 is we'll be ready."
James put up an all-round performance, with a strong show in the rebounds section as well, while Irving was at his menacing best, drilling those shots from beyond the arc with perfection. Irving hit five three-pointers in Game 5, with the guard thanking his teammates for trusting in James and Irving's leadership.
"I'm thankful, but at the same time we wouldn't be in any position without both of us putting on a performance like this," Irving said.
"Our guys coming in and just trusting our leadership and doing it for four quarters - that's what it's about."
The Warriors missed Draymond Green, who is one of their best defensive players. The Warriors player was suspended for Game 5 as the NBA awarded a Flagrant Foul 1 penalty after his swipe at James in Game 4.
It was one of those nights for the Warriors, whose bench players failed to support the team when required.
The first and second quarters of the match were fairly close, but it was the third and fourth, where the Cavaliers put up a dominating performance on both the offensive and defensive boards. Warriors could only score 36 points in the second half compared to Cavaliers' 51.
Warriors' coach Steve Kerr was not pleased with the way his team defended against James and co. in Game 5. "We weren't very good defensively. We had to play better and we didn't," Kerr said.
But, their defence is assured to look strong with Green back for Game 6 in Ohio. Can Green stop the rampaging James?