The San Antonio Spurs clinched their fifth NBA title by beating defending champions Miami Heat 104-87 in the fifth game of the NBA Finals on Sunday night.
Kawhi Leonard was again the standout performer for the Spurs' and racked up 22 points and 10 rebounds. Miami proved to be a no match for San Antonio, and the last year's runner-up after recovering from a 16 points deficit clinched their first crown since 2007.
Four-time MVP Lebron James tried hard to keep Miami in hunt for the championship and he top-scored with 31 points and 10 rebounds, but received no support from the teammates as the Heat's two-year title reign came to an end.
Chris Bosh only added 13 points and seven rebounds, Dwyane Wade finished with 11 points and Michael Beasley scored nine points for the defending champions.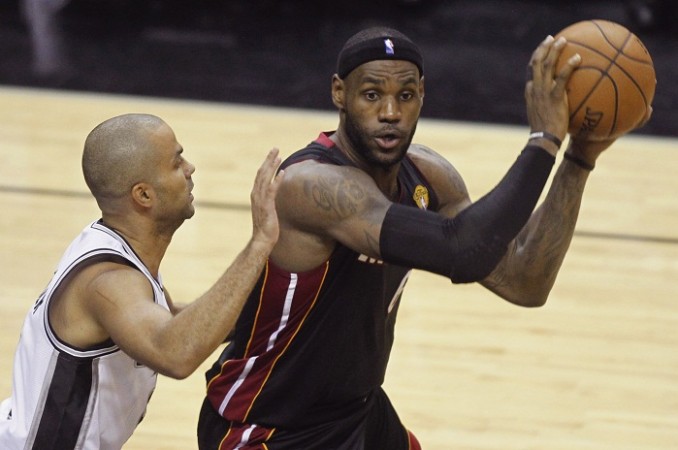 James, who headed into the fifth game averaging 27.5 points in the playoffs, was frustrated after losing the must-win encounter, but said he is not disappointed with his teammates, although, no one asked about his players.
Last year, Miami rallied back in the series after going down 2-1, but with 3-1 down this season and stats heavily stacked against them, they failed to create history as James was hoping before the contest.
"We remember what happened last year and how it felt in that locker room and we used it and built on it and got back here and it's amazing," San Antonio's Tim Duncan said. "It makes last year OK."
The Heat started the game strongly by taking a seven points lead in the first quarter, but the Spurs rallied back in the second and build a seven-point advantage heading into the halftime. The third quarter was dominated by Spurs with a 30-18 play. The lead was too big to cut and Miami failed to defend their title.
"They played exquisite basketball this series and in particular these last three games and they are the better team," Spoelstra said. "There's no other way to say it."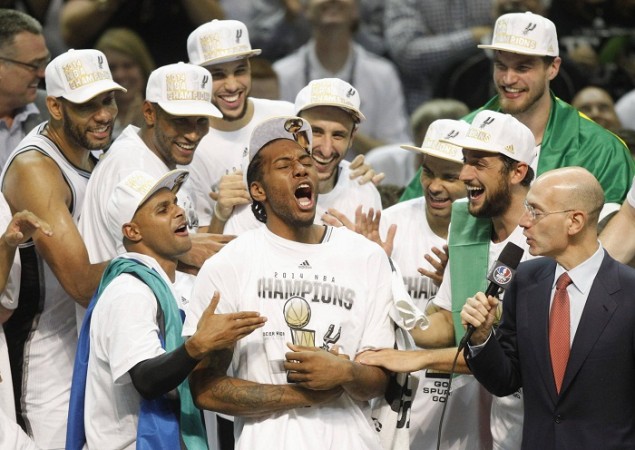 It was a double-delight for Leonard, as he not only top-scored for San Antonio, but also named Finals Most Valuable Player (MVP). The 22-year-old said that his teammates and coach pushed him to perform and play aggressively in the series.
"Right now it's just surreal to me," Leonard said. "I had a great group of guys behind me, just pushing me, just wanting me to just be aggressive in the game."
"They just told me I gotta keep being aggressive every night for us to win this series," he added. "They all pushed me, coach Pop pushed me, the fans pushed me and I just want to thank God and my parents and everybody."