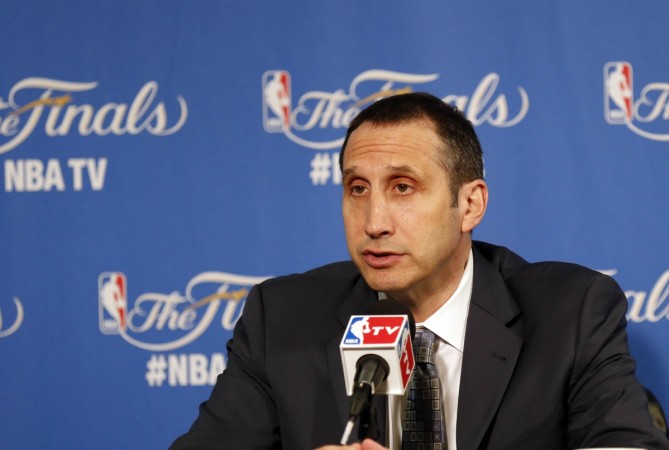 The Golden State Warriors are just one win away from clinching the 2015 NBA title after they defeated Cleveland Cavaliers 104-91 in game 5. The Warriors have hence taken a 3-2 lead in the best of seven NBA finals.
But one feels sorry for LeBron James, who was on the losing side despite finishing the game with an incredible triple double. James finished the game with 14 rebounds, 11 assists and 40 points. But this was not enough for his team to earn a victory with Warriors' star Stephen Curry in good scoring form, drilling seven three pointers.
Curry scored 37 points and was well supported by Draymond Green and Andre Igodala with 16 and 14 points respectively.
Cleveland Cavaliers' coach David Blatt was all praise for Curry, who was unstoppable during the night and made some extremely difficult shots. When Curry is in such great shooting red hot form, Blatt feels nothing can be done.
"Not a lot you can do, honestly. He made some terrific shots. Now there were a few that we made mistakes and we went under or we didn't stay connected, and that's on us," ASAP Sports quoted Blatt as saying.
"But there are a few that he made, more than a few that were extremely difficult shots, high, high‑level shots by a high‑level player. Sometimes you've got to take your hat off to the other guy. He made some tremendous shots. That's respect."
The game was even in the first two quarters of the game and both teams were playing tight and not allowing easy shots. When teams moved into the dressing room during half time, the score read 51-50 in favour of the Warriors.
But neither team had started the game well initially, making silly mistakes resulting in turnovers. The first half also witnessed some physical battles.
But it was the third and the fourth quarter, which made all the difference as Warriors outscored them in the last two quarters. The score read 22-17 and 31-24 in the last two quarters, which helped the Warriors inch toward their dream destination – NBA title.
The Cavaliers still have some chance to come back in the series as they are required to defeat the Warriors in game 6 of the NBA finals and take the game to the last game of the series.