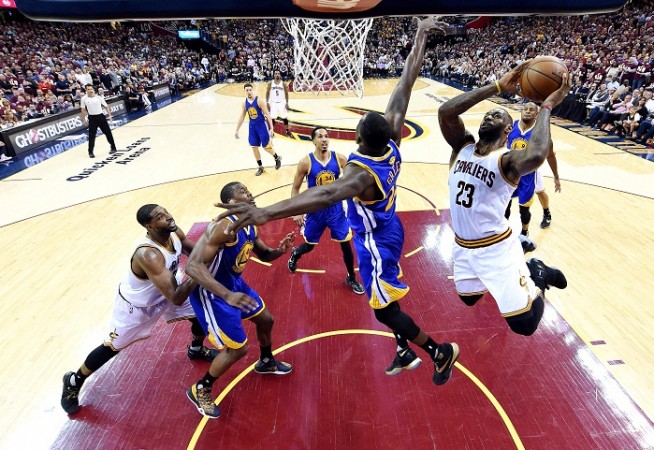 The Cleveland Cavaliers fans' voices could be heard loud and clear as they chanted, 'defence, defence, defence' and LeBron James and his team listened to those chants to great effect, dominating Game 3 of the NBA Finals against Golden State Warriors in the process to take a 120-90 victory. If Warriors were better in Oakland, the Cavaliers were superb in their home game at Quicken Loans Arena, winning their first game of the NBA best-of-seven series finals. Warriors lead the series 2-1.
For the third straight game in the NBA Finals, Cavaliers guarded Curry strongly, making life difficult for him to score. Curry finished with 19 points while and Klay Thompson had just 10.
The Splash brothers had a disappointing night as they could not get their shooting going from beyond the arc, which has always been their major forte. Thompson missed six three-pointers, and scored one. Curry only scored two points in the first half, which sums up, Cavaliers' tight defence.
But, the story was different for Cleveland's star players -- James and Kyrie Irving, who scored 32 and 30 points respectively. James was phenomenal, as he led the team from the front, and was always encouraging his teammates from the first whistle, which spurred the rest. JR Smith had a great shooting night, drilling five three pointers to score 20 points.
James said that they stuck to their plans in Game 3.
"Coaching staff gave us a great game plan and we executed it for 48 minutes," nba.com said James. "It started defensively and it trickled down to the offensive side."
Besides the second quarter, where Warriors outscored James' unit, 27-18, the rest of the three quarters were dominated by Cleveland, who had taken a 33-16 lead in the first quarter.
With this win the NBA Finals has opened up again, and the Cavaliers will be keen to draw the series level as they face the Warriors on Friday at their home court. Warriors, who are not acquainted to losing many matches, are expected to come hard at them, which spices things up as well.