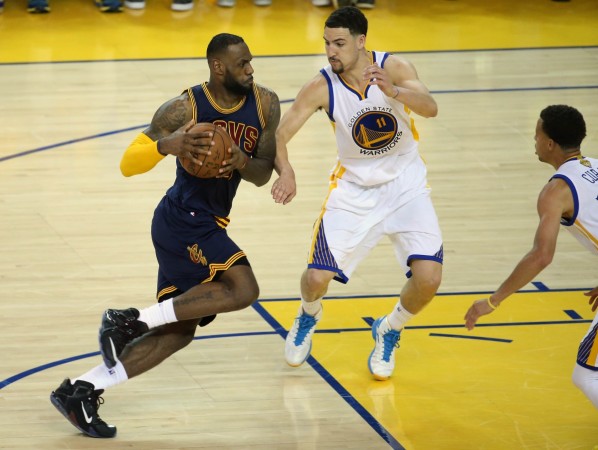 Critics and experts had already written off the Cleveland Cavaliers after they lost their All-Star guard Kyrie Irving, as he underwent a surgery on Saturday, but LeBron James stood tall and silenced the critics with his individual brilliance scoring 39 points.
Not only did he score freely, he set up easy shots for his teammates as well with 11 assists. Along with it, he also managed 16 rebounds to complete a triple double. It was a perfect performance from James, who took full responsibility in Irving's absence.
The Cavaliers defeated Golden State Warriors in Game 2 of the NBA finals at Oracle Arena in overtime as the game finished 95-93 in Cleveland's favour. The best of seven series is now tied at 1-1. The Cavaliers outscored Golden State 8-6 in OT, after the game ended 87-87 in regulation. The OT performance of Cleveland was an improved one from Game 1, where the Cavaliers only scored 2 points in OT.
James felt that the victory was a complete team effort, with center Timofey Mozgov the second-highest scorer for the Cavs with 17 points.
"I tried to give it all to my teammates. And they do a great job of giving it back to me. Total team effort," AP quoted James as saying.
"To be back in the same position we were in three days ago and to come back and even the series is big time."
It was no surprise to witness LeBron scoring so freely as he has been doing it all season, but MVP Stephen Curry could not do the same, as he had a night to forget.
Curry was below par in Game 2, scoring 19 points, while missing 18 shots. Curry only made two three-pointers, which is usually his forte. It seemed that Curry had his wrong shooting boots on.
NBA fans have seen Curry drilling those three-pointers from all corners of the court, but it was not his night this time.
"Shots I normally make I knew as soon as they left my hand that they were off. That doesn't usually happen," said Curry. "Mechanically, I don't know if there is an explanation for it. Just didn't have a rhythm and didn't find one the whole game."
But his performance just proves us he is also human and prone to having on off-day as well. Had Klay Thompson got better support from Curry, the Warriors could have taken a 2-0 lead, as Thompson top-scored for Golden State with 34 points.
Game 3 of the NBA finals will take place on Tuesday at the Quicken Loans Arena in Cleveland.