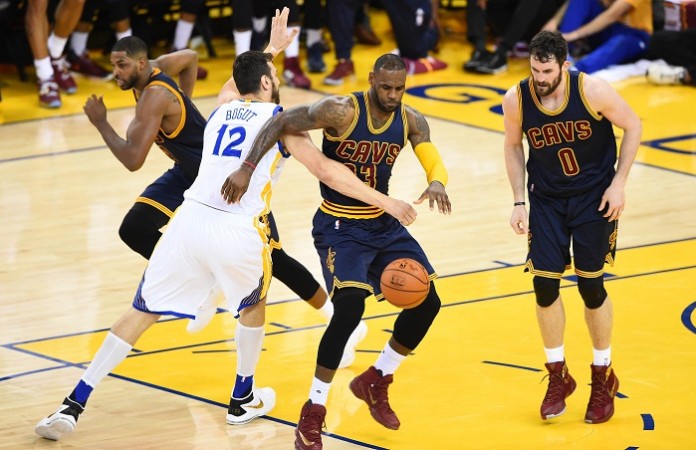 Golden State Warriors enjoy 1-0 lead against Cleveland Cavaliers in the best-of-seven series NBA Finals, but LeBron James and co will be keen to level it 1-1 with Game 2 scheduled at Oracle Arena in Oakland on Sunday.
Read how Draymond Green scripted a massive win for Warriors
The Warriors look an outstanding team when Stephen Curry and Klay Thomspon get their act right, but they looked a strong unit in Game 1, despite the duo being below par. The bench players, including Shaun Livingston, played some outstanding basketball, to help Warriors come out on top. Though Cavaliers were spot on with their plan against Curry and Thompson, they were caught off guard by Livingston.
Curry and Thompson normally do not have an off day at the same time, so they will be determined to put up a show against the Cavaliers, and take 2-0 lead. When Curry and Thompson get their shooting range right, it is almost impossible for opponents to stop the duo as has been witnessed by teams in recent past.
Curry scored 11 points in Game 1, which is uncharacteristic of the MVP, who was brilliant in the last few matches in the conference final against Oklahoma City Thunder. But Curry is not too worried about that as he will make some changes for Game 2.
"I missed some shots and didn't get a rhythm," Mercury News quoted Curry as saying. "But the way they defended, we'll be able to make adjustments in Game 2. I'm not worried about that."
If Curry shines on Game 2, the Cavaliers will have a tough time in Oakland. However, Cavaliers also have their own stars including James, Kyrie Irving and Kevin Love.
The Cavaliers' trio are dangerous, and have looked in fine form this post-season, helping their team win matches with ease. James, Irving and Love played well in Game 1, scoring 23 points, 26 and 17 but other bench players failed to impress, which led to their downfall. There is a serious need for all their players to get their game right on Sunday.
However, the focus will still be on James, as he is the talismanic player. Cavaliers'coach Tyronn Lue wants James to play a faster game, and help his team defeat Warriors.
"I just told LeBron I need him to play faster. I need him to pick up the pace for us offensively, getting the ball out and just beginning to play faster. They make you stagnant and make you play one-on-one basketball because that's all you can get. So if we pick up the pace and play with a faster tempo offensively, I think we'll be fine," ESPN quoted Lue said.
James also wants to execute the plan set by Lue.
"Coach has given us a game plan, and we need to execute it," James said.
"If coach feels like we need to play faster, then we do. We've got to push the tempo a little bit more offensively, see if we can get down, get some easy baskets and get to the flow of our game. It's been a good thing for us throughout the whole season once Coach Lue took over, so we need to do that."
Besides playing a quick game, Cavaliers also need to keep a eye on Curry, who will be itching to come up with a big Game 2 on Sunday.
Where to watch live
Golden State Warriors vs Cleveland Cavaliers NBA Final Game 2 is scheduled for 8 p.m. ET (5:30 a.m. IST, 1 a.m. BST) start. Indian viewers can watch it live on Sony Six/HD, with live streaming on Sonyliv.
Viewers in the US can watch the Golden State Warriors vs Cleveland Cavaliers NBA Final Game 2 live on ABC ,with live streaming ABC GO.
BT Sport will provide live coverage of the NBA Final in the UK, while the game can also be live streamed on Watch BT Sport.
NBA fans can also watch the Golden State Warriors vs Cleveland Cavaliers NBA Final Game 2 live on NBA.com.