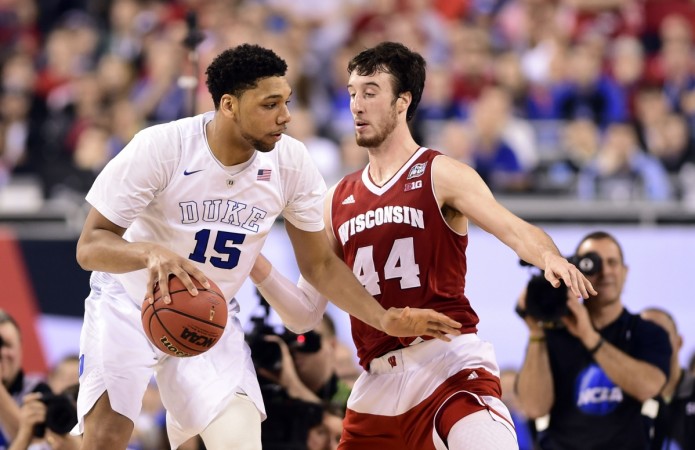 Following a disappointing last season in the NBA, Minnesota Timberwolves, Los Angeles Lakers and Philadelphia 76ers have plenty of reasons to smile with the NBA Draft 2015 scheduled to take place on Thursday at the Barclays Center.
Timberwolves, Lakers and 76ers are going to pick first, second and third respectively during the draft and it looks like Minnesota will pick Karl Anthony Towns as the No.1 pick. Lakers are expected go for Jahlil Okafor, who has also hinted about the possibility of playing alongside Kobe Bryant in Los Angeles.
It could be a big boost for Lakers' fans, who will hope Okafor and Bryant enthrall them with their performances. The 6ft 11in in Duke center is expected to be a big addition to the Lakers' team and the franchise can hope for a better season next time, after finishing second-last in the western conference.
Undoubtedly, Anthony Towns and Okafor are two of the biggest players in the draft and teams are eager to get such high-quality players. Hence, both Lakers and Timberwolves might have received a number of calls in view of a trade.
Apart from these players, there are others in the draft, which might interest various other teams as well. Those sides that are present in the top half of the draft will come with their homework done, and will only draft players they think can improve their team for next season.
D'Angelo Russell, the point guard from Ohio State, is also be in huge demand, for the player is of utmost quality, while his offensive qualities are top notch.
The 76ers, with the third pick, have a great chance of acquiring Russell's services. D'Angelo Russell has already stated that it would be great for him if he becomes a Sixer next season. If 76ers do not go for the player, the New York Knicks will be happy to snap the player up and give him a chance to excel alongside one of the best NBA players, Carmelo Anthony.
"He [Anthony] is a great player," csnphilly.com quoted Russell as saying. "He is a superstar. I would go under his wing and learn the most I can from him to better myself. I know there will be a transition the first year, but getting all the knowledge I could from him would be the best."
Russell has worked out for both the 76ers and Knicks.
Other players to watch out for in the 2015 NBA draft are Justise Winslow, Devin Booker, Mario Hezonja and Trey Lyles.
Where to Watch Live
Date – 25June 2015
Time – 7pm local time (4:30am IST)
TV Channel – ESPN (US), BT Sport (UK)
Online - Watch ESPN and BT Sport
First Round Draft Order
1. Minnesota
2. L.A. Lakers
3. Philadelphia
4. New York
5. Orlando
6. Sacramento
7. Denver
8. Detroit
9. Charlotte
10. Miami
11. Indiana
12. Utah
13. Phoenix
14. Oklahoma City
15. Atlanta (From Brooklyn)
16. Boston
17. Milwaukee
18. Houston (From New Orleans)
19. Washington
20. Toronto
21. Dallas
22. Chicago
23. Portland
24. Cleveland
25. Memphis
26. San Antonio
27. L.A. Lakers (From Houston)
28. Boston (From L.A. Clippers)
29. Brooklyn (From Atlanta)
30. Golden State
The 2015 NBA Draft