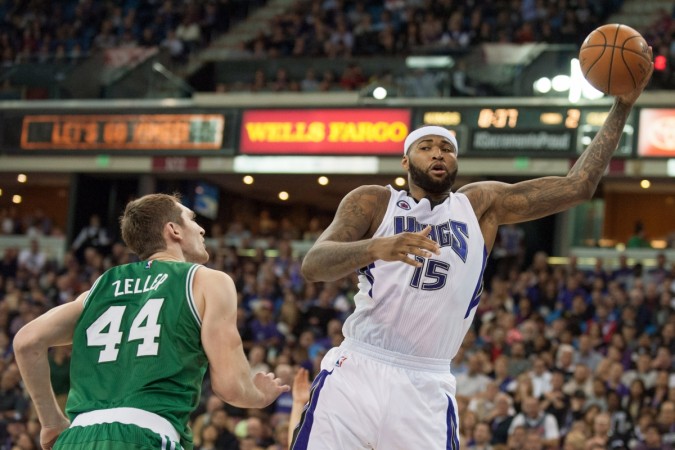 With 2015 NBA draft inching closer, teams are keeping a close eye on trade options available as well. The draft will take place on 25 June at Barclays Center.
Los Angeles Lakers, who have the second pick, are said to be interested in Sacramento Kings centre DeMarcus Cousins. Lakers have the prestigious pick, which can be used as a lure to secure Kings' DeMarcus Cousins.
The Lakers cannot directly trade with the Kings for the second pick as they have traded a first-round draft pick for next year. But the Lakers can pick one player from the draft, sign him and then have the provision of trade with Kings.
Jahlil Okafor is expected to be picked second in the draft by Lakers, if as expected Minnesota Timberwolves pick Karl-Anthony Towns first.
Apart from this, the Lakers have some other options as well if they are so interested in attaining the services of DeMarcus Cousins. The Lakers can trade Julius Randle and Jorden Clarkson as well. But are the Lakers willing to part ways with these players?
Randle and Clarkson are big players for Lakers, so trading either could be a huge risk.
But the most important question remains as to whether the Kings are willing to trade DeMarcus Cousins and the Kings' vice president Vlade Divac has made it clear that their center will not be traded to any team.
The ESPN reported citing sources that a three-way trade could take place amongst Lakers, Kings and Orlando Magic with DeMarcus Cousins resulting in being a Lakers player for next season.
Cousins' trade has been one of the most talked about with other teams such as Denver Nuggets and Boston Celtics also being linked to DeMarcus Cousins. It has been a month or so since talks have surfaced.
"We are receiving a ton of calls about trades, but I am very protective about the pick," The Sacramento Bee quoted Divac as saying.
"I don't want to give it up unless we can get several good pieces. Then I would think about it."
As far as the draft order goes, it is Minnesota Timberwolves, LA Lakers and Philadelphia 76ers, who have the first, second and the third pick respectively.