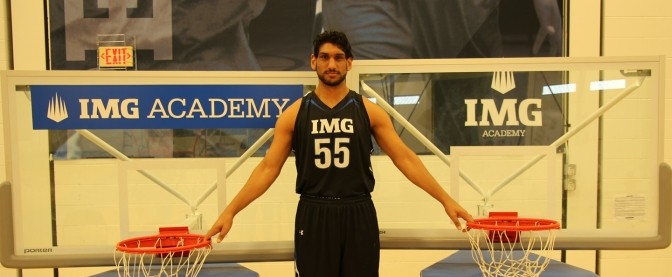 Satnam Singh Bhamara made history as he became the first Indian-born player to be drafted in the NBA. Dallas Mavericks picked the 7ft 2in star, who hails from Barnala in Punjab, in the NBA Draft on Thursday.
The Dallas Mavericks picked Satnam Singh from the IMG Academy amongst a pool of highly-talented players in the second round of the NBA Draft. He was the 52nd overall pick in the NBA Draft, and 22nd in round two. Dallas Mavericks had earlier picked Justin Anderson in the first round of the draft.
Talks had already been circulating about the possibility of Satnam being the first Indian to play in the NBA and it has indeed come true for the Punjab lad. Satnam has been training very hard to get a chance in the NBA, and it looks like his dream has come true.
Apart from Mavericks, other NBA teams such as Chicago Bulls, Boston Celtics and Sacramento Kings were also said to be interested in Satnam, who has the potential to be a dominant player, owing to his size.
Sim Bhullar had become the first player of Indian descent to play for NBA team Sacramento Kings, which is owned by another Indian Vivek Randive. One had thought the Indian-born owner, Randive would once again chance upon another Indian, Satnam Singh, but Mavericks snapped him up.
While Satnam has just been given a chance by the Dallas Mavericks, it is up to him to make full use of the top-notch training facilities to turn himself into an NBA star.
It was not entirely sure if he would be picked by any NBA team in the draft, as he is still considered quite raw, with very little experience playing at a high level. But, on the other hand, if an NBA professional can work and improve on his game, they can work wonders.
Satnam's coaches have stated that he is ready for the NBA from next season, but the likelihood is the teenager will be given an opportunity to gain some experience by playing in NBA's developmental D-league.
Satnam worked out with Bulls, Celtics and Kings prior to the NBA draft. Celtics director of player personnel Austin Ainge told nesn.com during the time: "He's humongous. He's really, really big. And a very nice kid. He's got an interesting story."
Despite of his rawness in the sport, Ainge was quite impressed with Satnam Singh's shooting skills. "He's a little raw, but he actually shoots the ball really well."
"[It was] pretty surprising. And he's not just tall, he's thick. He's a big, strong kid."
Indian basketball fans will expect Satnam to place India on NBA's map.
Can Satnam Singh do for India what Yao Ming did for China in the NBA?