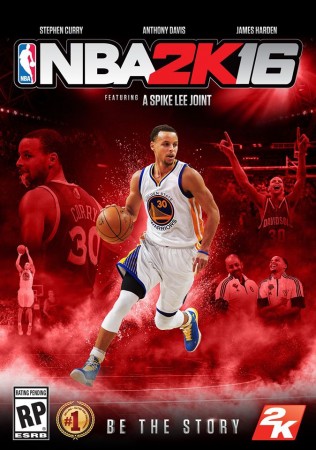 NBA 2K16 the professional basketball simulation video game from 2K Sports was an instant hit with fans and critics alike for its overall presentation and gameplay.
The game was ably guided by Spike Lee, the director of movies like "Do the Right Thing" and "Malcolm X" and fan of New York Knicks, during its development.
This game continues the NBA 2K series of 2K Sports. The game featured Anthony Davis of the New Orleans Pelicans, Stephen Curry of the Golden State Warriors, and James Harden of the Houston Rockets on its three separate covers.
The game also has a collection of about 50 different songs that were curated by DJ Premier, DJ Mustard, and DJ Khaled.
The game has MyNBA2K16, a companion app and features microtransactions. On the first week of its release, the game shipped more than 4 million copies.
NBA 2K16 was released on 29 September for PC, PS3, PS4, Xbox 360 and Xbox One.
Operation Sports reported a new roster for NBA 2K16 that boosted Stephen Curry's character as the top rated player in the game. Curry stands at overall of 95, and LeBron James stands at overall 94.
GOING UP
Kawhi Leonard +1 (91)
Blake Griffin +1 (90)
Paul George +1 (90)
Andre Drummond +1 (87)
Jimmy Butler +2 (88)
Kyle Lowry +1 (85)
Brandon Knight +3 (84)
Draymond Green +1 (84)
Hassan Whiteside +1 (83)
Giannis Antetokounmpo +1 (82)
Rajon Rondo +1 (82)
Kemba Walker +2 (82)
Avery Bradley +4 (81)
Jonas Valanciunas +1 (81)
C. J. McCollum +1 (80)
Andre Iguodala +3 (80)
Harrison Barnes +3 (80)
Manu Ginobili +1 (80)
GOING DOWN
Chris Paul -1 (89)
Carmelo Anthony -1 (86)
Dwight Howard -1 (84)
Marc Gasol -1 (84)
Klay Thompson -1 (83)
Nikola Vucevic -1 (81)
Reggie Jackson -1 (80)
Each roster update contains accessory and team colour changes. Players who want to check the detailed breakdown of the update can click here.
Locker Codes
Locker codes for NBA 2K16 allow players to receive virtual currency (VC), which can be used later for upgrading players, teams or buying gears (Vine Reports):
SHOOT2MUCH500 - 500 VC
2KTVPOSTSEASON - 1,000 VC
2KTVMELOGEAR, AIRCRAFTCARRIER, RA9M5-EQZCF-2EYQQ-IF5AF-UEP51 – unlocks gears and items.
PAYRESPECT – unlocks ABA ball in blue, red, and white colour.
9BUQS-QTKDU-ASYJU-3W183-QVXBC - LeBron James
NXYJ4-WQCRD-C2DQN-S36GF-TJMZ4 - Stephen Curry
GSUM3-ESARX-GXD3T-S3QJQ-FIETU - Shaquille O'Neil
FZV7P-FQ9SU-SRNZZ-9AB27-9ZUUT - Michael Jordan
XFQDT-TMQ6Z-I1TM6-8Q8J5-WNJGQ - Isaiah Thomas
AMIB1-95PFL-FD7LB-DQXHX-S7RBT- Carmelo Anthony
ZG9QQ-VYAVK-I2ZUD-TU2VL-ZFYLQ - Larry Bird
Q1585-CPEWU-HZNWY-WK2EW-V1E4C - Karl Malone
WR9KL-6NQ9Z-CWWGF-MVG4C-T3L8P - Paul George
85285-A1J16-S4OP6-EIO4R-DXSJ6 - Hassan Whiteside
PJHK3-E122X-LEZ9J-4VOWS-TS62R - Kristaps Porzingis
Meanwhile, NBA 2K16 recently received Patch 3 update for Xbox One, and before it was released on the latest Microsoft console, it was also released on PC and PS4.
Patch 3 brings fixes and improvement to the game's gameplay, MyPark, 2K Pro-Am, MyCareer, MyCourt, MyGM, MyLeauge and many more.