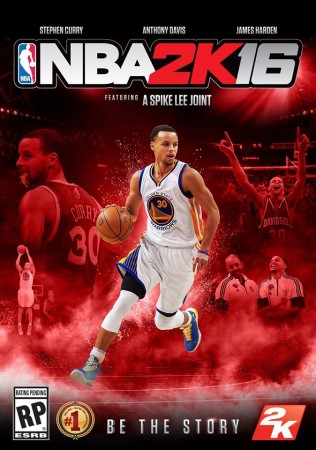 2K Sports, the developer of upcoming simulated basketball video game, NBA 2K16 has released the full set of soundtracks on Spotify.
Fans can now listen to the songs that will be part of the game. All the songs are currently available on Spotify.
NBA 2K16 has one of the biggest music collection in the history of NBA 2K series. As noted earlier, it will have the music curated by DJ Mustard, DJ Khaled and DJ Premier. It will be having over 50 tracks in six in-game playlists.
It will also include tracks that were specifically produced for the game, two tracks from each of the three DJs, a total of six new never-before-heard tracks.
One song that many WWE fans will be aware of is "Cult of Personality" by Living Color, the song that is played during CM Punk's entrance. This song was also in Grand Theft Auto: San Andreas and now NBA 2K16 has it too. Another famous song is "Blitzkrieg Bop" from The Ramones.
The soundtracks made available are of different genres and include songs from Jay-Z, Drake and Wiz Kalifa.
NBA 2K16 will be rolling out on 29 September for PC, PS3, PS4, Xbox 360 and Xbox One.
Below is the list of songs provided in NBA 2K16 (Operation Sports):
DJ Premier Playlist
Custom Track: Papoose Prod. By DJ Premier, "Hold the City Down"
Gang Starr (feat. NYGz, H. Stax), "Same Team, No Games"
Nas, "Made You Look"
Living Colour, "Cult of Personality"
Jeru The Damaja, "You Can't Stop The Prophet"
Custom Track (Instrumental): DJ Premier, "Bum Bum Bum"
Ramones, "Blitzrieg Bop"
NYGz, "Policy"
DJ Premier & Bumpy Knuckles, "More Levels"
PRhyme, "U Looz"
DJ Khaled Playlist
Custom Track: DJ Khaled (feat. Ace Hood, Vado, Kent Jones), "365"
DJ Khaled (feat. Akon, T.I., Rick Ross, Fat Joe, Baby, Lil' Wayne), "We Takin' Over"
Ace Hood, "Hustle Hard"
Rick Ross (feat. T Pain), "The Boss"
Jay Z, "Where I'm From"
Custom Track (Instrumental): DJ Khaled, "Black Rims"
Wiz Khalifa, "We Dem Boyz"
Ace Hood (feat. Future & Rick Ross), "Bugatti"
Nas, "Represent"
DJ Khaled (feat. T-Pain, Ludacris, Snoop Dogg, Rick Ross), "All I Do Is Win"
DJ Mustard Playlist
Custom Track: DJ Mustard (feat. RJ), "You Don't Want It"
J Cole, "Rise and Shine"
Fergie, "L.A. Love (la la)"
Imagine Dragons, "I'm So Sorry"
M.I.A., "Y.A.L.A."
Custom Track (Instrumental): DJ Mustard, "Ball at Night"
MGK, "Till I Die" (Cavs Version)
Drake, "0 To 100"
Iamsu!, "I Love My Squad"
Santigold, "Disparate Youth"
2K Classics Mixtape
Gnarls Barkley, "Going On"
Friendly Fires, "Skeleton Boy"
LCD Soundsystem, "Time to Get Away"
Santigold (feat. Spank Rock), "Shove It"
OneRepublic, "Everyone Loves Me"
RJD2, "Clean Living"
ZION I, "Ride"
The Flaming Lips, "The W.A.N.D. (The Will Always Negates Defeat)"
Hogni, "Bow Down (To No Man)"
The Chicharones, "Little By Little"
Around The World
Rael, "Vejo Depois"
Calvin Harris (feat. John Newman), "Blame"
Zedd (feat. Selena Gomez), "I Want You To Know"
Emicida & FeFe, "Bonjour"
Ana Tijoux, "Vengo"
Major Lazer (feat. MO & DJ Snake), "Lean On"
Club Dogo (feat. Arisa), "Fragili"
AM444, "Lies" (Jay. Soul Truth Remix)
Bag Raiders, "Shooting Stars"
Dynamic Duo & DJ Premier, "Aeao"