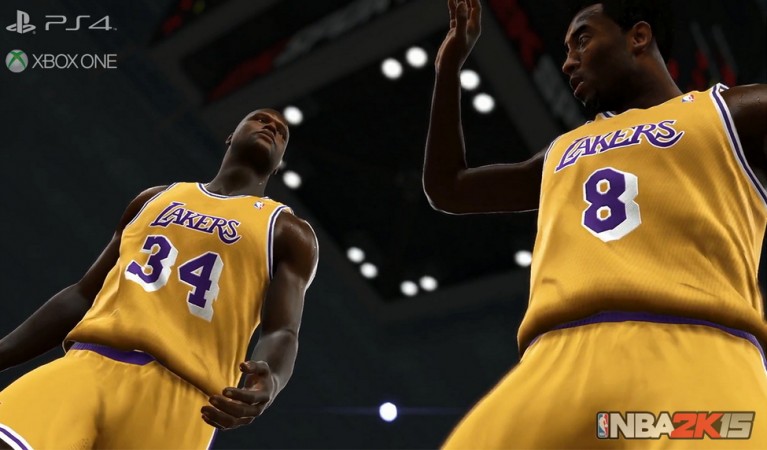 NBA 2K15 players are some of the most excited and lucky ones since 2K sees to it that the roster of the professional basketball gaming title is constantly updated. A new roster update was released by the company that takes into account some of the movements, rotations and injuries of real players in NBA.
These changes are reflected in NBA 2K15. The roster update dated 8 March, 2015 has two important additions that have been made to Los Angeles Clippers and Philadelphia 76ers. They have added Nate Robinson to Los Angeles Clippers and Glenn Robinson to Philadelphia 76ers.
Lou Williams of the Raptors will gain two points to move up the overall points. However, Detroit Pistons' Cartier Martin moves down, losing two points.
NBA 2K15 featured Oklahoma City Thunder's Kevin Durant on its cover. It continues its journey from NBA 2K14, and reports have suggested that 2K is working on NBA 2K16.
NBA 2K15 included the 3D mapping of players using the PlayStation Camera or Kinect (which created issues as some faces came out very bizarrely), MyCareer mode and included some tips on court performance from Doc Rivers, the head coach at Los Angeles Clippers.
Recently, WWE 2K players had demanded 2K to give updates to WWE 2K15 rosters in the same fashion as they do with NBA 2K15. But 2K argued that making rosters takes a lot of time and hence it does not release updated WWE 2K15 rosters, proving how lucky NBA 2K15 players are.
NBA 2K15 was released on 7 October for PC, PlayStation 3, PlayStation 4, Xbox 360 and Xbox One.
Below are the Attribute updates for NBA 2K15 (Operation Sports):
Attribute Updates
New Orleans Pelicans
Tyreke Evans OVR 81 (+1)- Shot IQ +8, Offensive Consistency +10
Alexis Ajinca OVR 75 (+1)- Standing Close +10, Moving Close +20
Detroit Pistons
Cartier Martin OVR 68 (-2)- Standing Three -4, Moving Three -5, Offensive Consistency -15
Toronto Raptors
Lou Williams OVR 83 (+2)- Ball Control +4, Pass Accuracy +4, Shot IQ +8, Offensive Consistency +10
Amir Johnson OVR 76 (-1)- Offensive Consistency -15
Phoenix Suns
Brandan Wright OVR 76 (-1)- Offensive Consistency -20
Oklahoma City Thunder
Russell Westbrook OVR 95 (+1)- Defensive Rebound +10, Box Out +8, Hustle +9, Speed +1, Pass Perception +5, Steal +4, Driving Layup +4, Standing Close +3
Minnesota Timberwolves
Andrew Wiggins OVR 80 (+1)- Offensive Consistency +10, Lateral Quickness +2, Quickness +3
Portland Trail Blazers
Nic Batum OVR 78 (0)- Standing Three +5
Golden St. Warriors
Stephen Curry OVR 94 (0)- Standing Three +2, Moving Three +2
Klay Thompson OVR 88 (-1)- Standing Three -2, Moving Three -3
Washington Wizards
John Wall OVR 88 (-1)- Standing Three -4, Moving Three -4
Meanwhile, an accessory update was also released for NBA 2K15 on 6 March, 2015. This update brought in a lot of changes in individual and team jerseys, shoes and other peripherals. Check out the details below (Operation Sports):
Accessory Updates
Jason Richardson- Remove rubberband. Add compression pants.
Thomas Robinson- Change to short socks
Hollis Thompson- Remove compression pants
Michael Carter-Williams- Remove compression pants. Add knee sleeves. Change to medium socks. Change shoes to Nike HyperRev
Joakim Noah- Remove short sleeve shirt
Nikola Mirotic- Add left arm sleeve
Aaron Brooks- Remove knee sleeves. Add left knee strap. Change shoes to Nike Kobe 10
E'Twaun Moore- Remove hex pads
Tony Snell- Change shoes to Adidas Crazy Light Boost
Doug McDermott- Add compression pants
Nazr Mohammad- Remove knee sleeve. Change shoes to Nike KD 7 35,000 Degrees
Lebron James- Add left arm sleeve. Change wristband to rubberband
Kevin Love- Change left elbow brace to team color 2 for home and away
Joe Harris- Remove knee sleeves. Change shoes to Nike Zoom Soldier 8
Kelly Olynyk- Remove Headbans. Remove Arm Sleeve
James Young- Remove knee sleeves
Isaiah Thomas- Change shoes to Air Jordan XX9
Evan Turner- Add left knee sleeve. Change shoes to Li-Ning Pirate Evan Turner Edition
Jonas Jerebko- Add right arm sleeve. Change shoes to Jordan Super Fly 2
Jae Crowder- Add left wrist wrap
Gerald Wallace- Change shoes to Jordan Super Fly 3
Luigi Datome- Change shoes to Adidas Crazy Light Boost
Jordan Hamilton- Change compression pants to white for home. Change shoes to Nike Kobe 9 EM
Jeff Green- Remove arm sleeve
Mike Conley- Change left wrist wrap to rubberband
JaMychal Green- Add hex pads. Change to medium long socks
Courtney Lee- Change shoes to Nike Kyrie 1 Deceptive Red
Jon Leuer- Add both leg sleeves
Vince Carter- Change shoes to Nike Hyperdunk 2014
Jeff Teague- Remove wrist wrap
Shelvin Mack- Add compression pants. Change to short socks
Goran Dragic- Change to medium socks
Shabazz Napier- Remove wrist wrap. Remove rubberband. Remove knee sleeves. Change to medium double socks. Change shoes to Nike Hyperdunk 2014
Michael Beasley- Remove arm sleeve. Remove calf sleeves. Add knee sleeves. Change to medium socks. Change shoes to Air Jordan X
Tyler Johnson- Change shoes to Air Jordan XIII
Henry Walker- Add right arm sleeve. Add left rubberband. Change Shoe to Li-Ning Pirate Evan Turner Edition
James Ennis- Change to short socks
Michael Kidd-Gilchrist- Add right wrist wrap
Gerald Henderson- Remove wrist wrap. Remove knee sleeve
Lance Stephenson- Remove calf sleeve
Brian Roberts- Change shoes to Nike Zoom Run the One
Rodney Hood- Cahnge shoes to Nike Kyrie 1 Deceptive Red
Bryce Cotton- Change shoes to Nike Kobe 9 EM
Jack Cooley- Change to short socks. Change shoes to Nike Hyper Quickness
Ian Clark- Change shoes to Nike Run the One
DeMarcus Cousins- Change shoes to Nike Kyrie 1 Deceptive Red
Rudy Gay- Remove short sleeve shirt. Change shoes to Nike Zoom Hyperfuse
Ray McCallum- Change shoes to Nike Kyrie 1 Deceptive Red
Nick Stauskas- Remove knee sleeves. Add compression pants
Tim Hardaway Jr- Add headband. Remove arm sleeve. Add right padded arm sleeve
Langston Galloway- Remove right rubberband. Add right padded sleeve. Change shoes to Nike Zoom Run the One
Jason Smith- Add compression pants. Change knee sleeves to hex pads. Change shoes to Nike Zoom Hyperfuse
Louis Amundson- Add knee pads
Cole Aldrich- Remove calf sleeve
Alexey Shved- Add compression pants. Change shoes to Nike Hyperdunk 2014
Wesley Johnson- Remove hex pads. Add both mid calf sleeves
Robert Sacre- Add left padded arm sleeve. Add compression pants
Channing Frye- Remove hand wrap. Add right mid calf sleeve. Change to medium socks. Change shoes to Nike Zoom Run the One
Ben Gordon- Change shoes to Nike Kobe 10
Aaron Gordon- Remove hand wrap. Change shoes to Nike Hyperdunk 2014
Rajon Rondo- Change hex pads to knee sleeves
Greg Smith- Add compression pants
Brook Lopez- Change to high socks. Change shoes to Adidas Rose 773 II
Thaddeus Young- Change shoes to Nike Kyrie 1 Deceptive Red
Deron Williams- Change shoes to Nike Hyperfuse
Joe Johnson- Change shoes to Jordan Super Fly 3
Markel Brown- Change shoes to Nike Kobe 9 EM
Cory Jefferson- Remove arm sleeves
Wilson Chandler- Change shoes to Nike Kobe 10
JJ Hickson- Add right padded arm sleeve. Change left arm sleeve to padded arm sleeve
Darrell Arthur- Remove left knee sleeve. Change to medium socks. Change shoes to Air Jordan VII
Gary Harris- Change to medium socks
Jameer Nelson- Remove arm sleeve
George Hill- Remove compression pants. Add knee sleeves
Solomon Hill- Remove knee sleeves
CJ Watson- Remove compression pants
Jeff Withey- Change shoes to Nike Hyperfuse
Andre Drummond- Change both rubberbands to team color 2 for home. Remove compression pants. Add knee sleeves
Reggie Jackson- Remove calf sleeve
Caron Butler- Remove arm sleeve. Remove knee sleeve. Add compression pants. Change to medium socks. Change shoes to Nike Hyperdunk 2014
Shawne Williams- Change shoes to Nike Kobe 9 EM
John Lucas III- Change shoes to Nike Hyper Quickness
Patrick Patterson- Remove compression pants. Add left knee sleeve. Change shoes to Nike Hyperdunk 2014
Amir Johnson- Add compression pants
Jason Terry- Change shoes to Kamikaze 4
Terrence Jones- Remove compression pants
Joey Dorsey- Add compression pants
Tim Duncan- Add left elbow small band
Tiago Splitter- Remove compression pants. Change shoes to Nike Hyperfuse
Matt Bonner- Change shoes to Adidas Crazy 8 Iman Shumpert
Jeff Ayers- Remove rubberband. Remove finger strap. Change shoes to Nike Hyperdunk 2014
Brandon Knight- Change shoes to Adidas Crazy Light Boost
Markieff Morris- Change right wrist wrap to team color 2 for away
TJ Warren- Change shoes to Nike Zoom Run the One
Reggie Bullock- Add compression pants
Earl Barron- Change shoes to Nike Hyperdunk 2014
Enes Kanter- Change shoes to Nike Hyperdunk 2014
Andre Roberson- Remove wrist wrap
Mitch McGary- Remove arm sleeve
Dion Waiters- Remove right knee sleeve
Kyle Singler- Remove arm sleeve
Nikola Pekovic- Add right Adidas arm sleeve
Kevin Garnett- Change left arm band to white for home. Add left rubberband. Remove right knee brace
Zach LaVine- Remove compression pants. Add mid calf sleeves. Change shoes to Nike Kobe X
Lorenzo Brown- Remove knee sleeves. Add compression pants
Nicolas Batum- Change right rubberband to white for home and away
Meyers Leonard- Remove compression pants
Andre Iguodala- Change shoes to Nike Kobe 10
Festus Ezeli- Remove knee straps. Add compression pants. Change shoes to Nike Zoom Soldier 8
Brandon Rush- Remove knee sleeve
Paul Pierce- Change to medium long socks. Change shoes to Nike Hyperdunk 2014
Bradley Beal- Add right padded arm sleeve
Otto Porter Jr- Change shoes to Jordan Super Fly 3
Team Color Updates
76ers Home Jersey Arm Sleeves White
Celtics Pride Jersey Headbands/Arm Sleeves/Socks/Shoes White
Kings Home Jersey Arm Sleeves White
Kings Away Jersey Headbands White
Knicks Aways Jersey Headbands/Arm Sleeves Blue
Lakers Away Jersey Arm Sleeves Yellow
Magic Home Jersey Arm Sleeves Black
Pacers Home Leg Accessories White
Pacers Alternate Jersey Arm Sleeves Blue
Pelicans Alternate Jersey Headbands White
Pistons Home Jersey Headbands/Arm Sleeves Blue. Rubberbands Red
Pistons Away Jersey Headbands/Arm Sleeves Blue. Rubberbands Red
Pistons Alternate Jersey Rubberbands Red
Raptors Away Jersey Arm Sleeves Red
Raptors Alternate Jersey Arm Sleeves Red
Raptors Classic Away IV Jersey Arm Sleeves Red. Shoes White/Purple/Red
Suns Away Jersey Arm Sleeves Purple
Timberwolves Home Jersey Socks/Shoes Black
Trail Blazers Home Jersey /Headbands/Arm Sleeves/Socks White