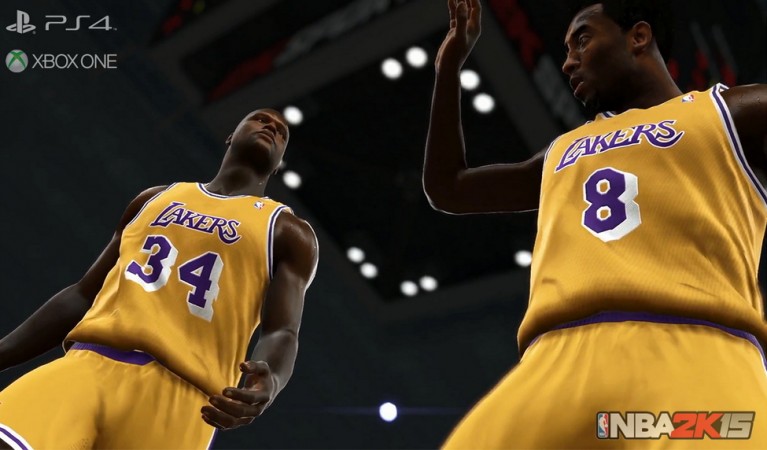 NBA 2K15 has a new roster update that was released on 13 March that claims to be reflective of the recent injury free changes.
NBA 2K15 players are lucky to get their rosters updated at such a regular pace, helping the game to keep pace with what is happening in NBA games.
The new roster update brings attribute and team colour updates. Players will see Kyrie Irving's overall points to reach 89. But fans demanded that 2K should have given 90 overalls for him to show some respect.
You're lucky to see these numbers in 2K! @KyrieIrving: A career high 57 points (7/7 from 3). #PerfectRelease pic.twitter.com/ZznwR33H00

— NBA 2K 2K15 (@NBA2K) March 13, 2015
Below is the roster update for NBA 2K15 for 13 March (Operation Sports): Attribute Updates Cleveland Cavaliers
Kyrie Irving OVR 89 (+1)- Standing Three +2, Moving Three +2, Offensive Consistency +10
Team Color Updates
Celtics Pride Jersey Arm Sleeves Black. Rubberbands White
Grizzlies Alternate Jersey Headbands/Arm Sleeves Navy. Socks Black
Kings Away Jersey Arm Sleeves Purple. Shoes White
Lakers Away Jersey Arm Sleeves Purple
Magic Home Jersey Arm Sleeves White
Magic Pride Jersey Arm Sleeves Black
Pelicans Alternate Jersey Headbands Navy
Pistons Away Jersey Headbands/Arm Sleeves Red. Rubberbands Blue. Socks/Shoes Black
Pistons Alternate Jersey Rubberbands Blue. Socks/Shoes Black
Raptors Alternate Jersey Headbands/Arm Sleeves Black
Rockets Alternate Jersey Headbands Red. Socks/Shoes Black
Suns Home Jersey Arm Sleeves Black
Suns Away Jersey Arm Sleeves Black
Warriors Home Jersey Arm Sleeve/Socks/Shoes Black
Below is a roster update for 11 March that removes LeBron James' headband (Operation Sports):
Removed the headband for LeBron James
Chicago Bulls, Nikola Mirotic overall up to 79
Philadelphia 76ers, Nerlens Noel overall up to 77
Denver Nuggets, Will Barton overall up to 73
Locker Code 2K has released a new locker code that will bring Larry Bird into the game's My Team. Locker Code: MRQ6P-JJ6XG-AQRV7-TFMXU-3U62C
#PinkDiamondBird has arrived in #NBA2K15 MyTEAM! #LockerCode: MRQ6P-JJ6XG-AQRV7-TFMXU-3U62C pic.twitter.com/Ot66BkoWG6 — NBA 2K 2K15 (@NBA2K) March 12, 2015
Ultimate Legends Roster for PS4 Now Available
Meanwhile, Brian Mazique (AKA FranchisePlay) has reportedly uploaded NBA 2K15 Ultimate Legends Roster for PS4.
The roster has a collection of 150 players created by Brian Mazique and these are from the best of their seasons. The posts updates us that there will be two versions of Charles Barkley, Kareem Abdul-Jabbar, Reggie Miller, Tracy McGrady, Grant Hill and several others who were previously not part of the game.
"Teams with a shorter history have less legends, so a challenge might be taking the Pelicans to the championship in a MyGM or MyLeague, where the Chicago Bulls have Michael Jordan and Derrick Rose," says the post.
Meanwhile, 2K has also said that it is celebrating Saint Patrick's Day with three new store items that will be made available only until 17 March.
We're celebrating Saint Patty's day with these exclusive MyPLAYER store items from now until the 17th. Go get 'em! pic.twitter.com/9qtzy33bUh

— NBA 2K 2K15 (@NBA2K) March 14, 2015
Ronnie of 2K also mentioned about the MyTeam Pack sale where players will get 20% off on League and Legendary packs.
"@NBA2K: It's time for a MyTEAM Pack Sale! This weekend get 20% off League, 50/50 & Legendary packs! #NBA2K15 pic.twitter.com/7UtFdLt8e1" Score! — Ronnie 2K 2K15 (@Ronnie2K) March 13, 2015
Patch 4 or Update 1.04 to Address Shoe Glitch, Available for PS4 and PC
Reports have indicated that Patch 4 or update 1.04 has been now available for PS4 and PC versions of NBA 2K15. The update will be weighing 2.84GB on PS4 however, the file size for PC is not as large as this, said Attack of the Fanboy.
This new patch will be bringing stability improvements and other general improvements. It will also be addressing one fix that fans have been demanding for a long time – the shoe glitch issue.
2K has promised that the update will be out for Xbox One soon.
More details on the patch are expected to be released shortly.
Full #NBA2K15 Patch 4 Notes will eventually be released (prob when I am back stateside). Out now on PS4, coming soon PC/XB1

— Ronnie 2K 2K15 (@Ronnie2K) March 13, 2015
In other news, #NBA2K15 Patch 4 (addressing shoe glitch, etc.) has been submitted to 1P. Should release within 14 days, probably much sooner — Ronnie 2K 2K15 (@Ronnie2K) March 12, 2015